The Latest: Small Kilauea eruption sends ash plume 7K feet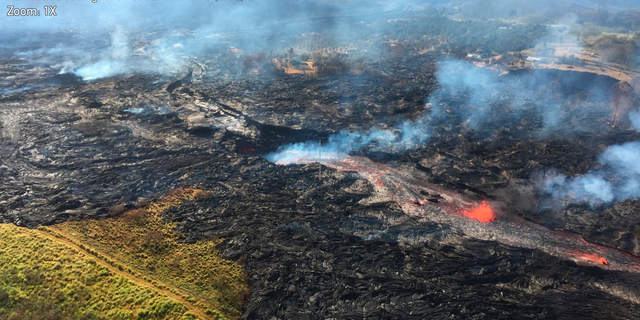 NEWYou can now listen to Fox News articles!
PAHOA, Hawaii – The Latest on an erupting volcano on Hawaii's Big Island (all times local):
2:45 a.m.
Officials say a small eruption has occurred at the Kilauea volcano summit, producing an ash plume that reached about 7,000 feet.
The County of Hawaii issued a civil defense message early Monday about the eruption and warning that the ash plume could affect surrounding areas.
Officials say the wind carried the ash plume to the southwest, toward Wood Valley, Pahala, Naalehu and Waiohinu.
Authorities are warning those in the affected areas to stay indoors with windows closed and to drive with caution.
___
7 p.m.
White plumes of acid and extremely fine shards of glass are billowing into the sky over Hawaii as molten rock from Kilauea volcano pours down a hillside and into the ocean.
Authorities are warning the public to stay away from the toxic steam cloud, which is formed by a chemical reaction when lava touches seawater.
Further upslope, lava is still gushing out of large vents in the ground in a Big Island residential neighborhood.
Hawaii County officials say sulfur dioxide gas emissions from the vents have tripled. At the volcano's summit, two explosive eruptions unleased clouds of ash on Sunday. Winds carried much of the ash toward the southwest.
Kilauea volcano began erupting lava in the Leilani Estates neighborhood more than two weeks ago.