'Texas 7' gang member executed for officer's killing, defiantly quotes Jesus from gurney
Nearly two decades after joining a mass prison break in Texas and participating in a subsequent crime spree that led to the murder of a police officer, a member of the notorious "Texas 7" gang was executed Tuesday -- but not before he defiantly offered a final prayer while strapped to a gurney.
Joseph Garcia, 47, became the 22nd inmate put to death this year in the U.S. and the 12th given lethal injection in Texas.
He received the injection at the state penitentiary in Huntsville for the December 2000 shooting death of 29-year-old Aubrey Hawkins, an Irving police officer who responded to a robbery Garcia was involved in at a sporting goods store. Hawkins had just finished Christmas Eve dinner with his family when he took the call.
Garcia's final words from the gurney included a reference to some of Jesus Christ's last words as he lay dying on the cross, the Houston Chronicle reported.
"Dear heavenly Father, please forgive them, for they know not what they do," Garcia said.
He was then given the lethal dose and pronounced dead 13 minutes later at 6:43 p.m.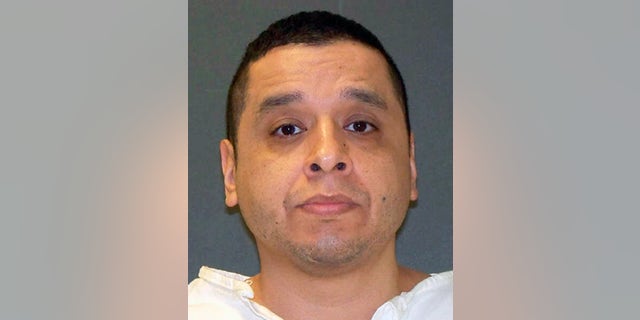 Garcia was serving a 50-year sentence for murder when he hooked up with a group of inmates who escaped from a South Texas prison in December 2000 and orchestrated a string of robberies -- including the one in which Hawkins was shot 11 times. The escaped inmates were eventually arrested in Colorado after a six-week manhunt. One member of the group killed himself as officers closed in and the other six were captured, convicted of killing Hawkins and sentenced to death.
Garcia is the fourth member of the group to die. Two others remain on death row.
FLORIDA STATE TROOPER STRUCK BY CAR, THROWN IN AIR AFTER PUSHING BYSTANDER OUT OF WAY, STUNNING VIDEO SHOWS
Garcia's legal team in recent weeks launched several appeals to stop the execution, but the state's parole board rebuffed a request for clemency Friday.
In the weeks before the scheduled execution, Garcia also wrote to the Chronicle, asking if it was right he be put to death for "something that I did not do."
"I am on death row because of the actions and intent of others and because I am one of the Texas Seven, case closed," Garcia wrote.
Toby Shook, the lead prosecutor who handled Garcia's case and the five others who were tried, told the Associated Press that, while authorities couldn't narrow down which escaped inmate used which gun to shoot Hawkins, the inmates acted as a team to commit the robbery during which the officer's murder occurred.
"He was up to his ears in murder and mayhem out there. He was actively participating in everything," said Shook, now a defense attorney in Dallas.
The U.S. Supreme Court rejected Garcia's final appeal Tuesday evening.
Family and friends of Hawkins told the Chronicle that Garcia's decision to participate in the robbery and murder was clear.
"Whatever participation he had, he went along with it," Seagoville police Sgt. Karl Bailey told the paper. "The whole thing was sparked by the escape from prison, the burglaries -- it was a crime spree."
The Associated Press contributed to this report.