Suspected car thief plummets to death from crane at Los Angeles port after standoff
A suspected car thief led police on a chase across Los Angeles Wednesday before he ditched the vehicle, climbed a loading crane at the city's port, stripped naked and fell to his death.
The bizarre incident began around 3 p.m., when Los Angeles Police spotted a white Subaru SUV, which cops soon engaged in an hours-long chase.
The suspect led cops along streets and the 110 Freeway, driving on the wrong side of roads and scraping the SUV against highway barriers along the way before heading into the harbor area, FOX11 reported.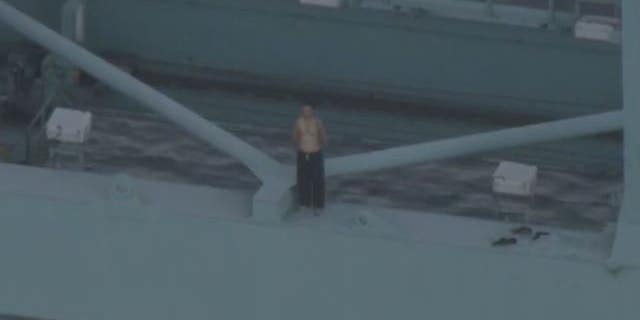 After driving into the Port of Los Angeles, the suspect, wearing a Kobe Bryant jersey, bailed out of the still-rolling vehicle three hours after the chase began and climbed a giant crane high above the piers.
He broke a window and climbed into the crane cab, then climbed out, walking to the end of the crane over water as darkness fell and news helicopters hovered overhead.
The suspect eventually ditched his Lakers jersey and shoes and soon took off the rest of his clothes. The man then dangled and nearly fell several times before his fatal plunge to the ground -- five hours after the chase began.
Amy Bastman of the Los Angeles Fire Department told FOX11 the suspect plunged about 160 feet to the ground, and was pronounced dead at the scene.
The man's name has not yet been released, and the LAPD said officers weren't near the suspect at the time of his fall.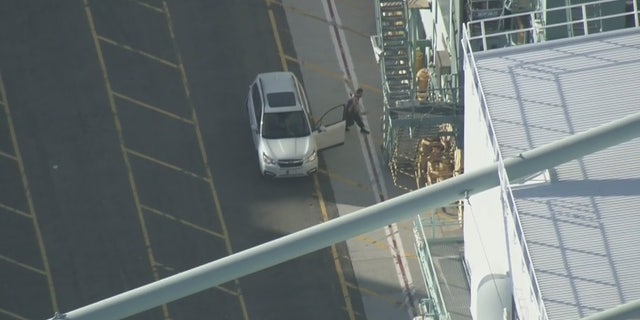 "Our officers were nowhere near to close proximity of the suspect at the time that he fell," Detective Meghan Aguilar told The Associated Press.
Eric Nosser, a salesman at the Subaru dealership the SUV was stolen from, said he steered clear of the man. Instead the man found an SUV with the keys in it, got inside and took off.
"I let him be, because he seemed on edge," Nosser told KNBC-TV. "I figured he'd just kind of walk off and go about his business."
The Associated Press contributed to this report.