Stamp honoring Johnny Cash to go on sale Wednesday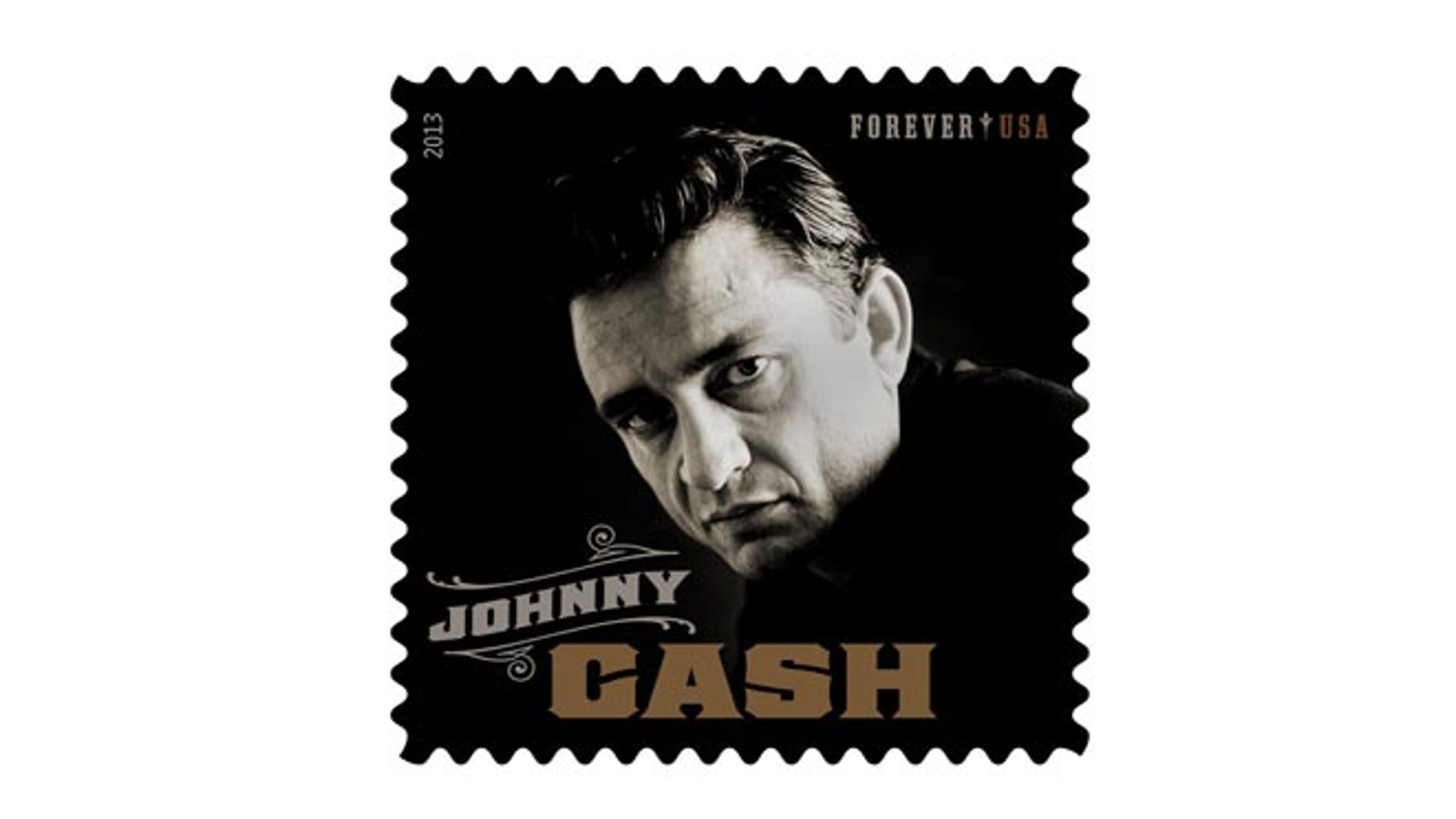 Beginning Wednesday, you'll be able to put Johnny Cash on all your mail.
A "forever" stamp honoring the country music legend will go on sale, coinciding with the end of a yearlong celebration of the Man in Black's life and career. A free public concert in Nashville by family and friends of the singer also will honor his six-decade career.
The 46-cent stamp will feature a 1963 image of Cash shot by Frank Bez during the photo session for the album "Ring of Fire: The Best of Johnny Cash."
Cash's son, John Carter Cash, said the stamp is unusual, and therefore appropriate for his father's legacy.
"It just truly embodies my father's spirit, who he was," Cash said. "It's different. That's one thing: It stands out to me as being unique. It's very commanding when you see the stamp."
Wednesday's concert at the Ryman Auditorium in Nashville features other Cash family members, including the late singer's brother and sister, Tommy Cash and Joanne Cash Yates, and friends Randy Travis, Marty Stuart, Larry Gatlin and The Oak Ridge Boys. Jamey Johnson and The Roys also are scheduled to perform.
The honor of a commemorative stamp is an important one, said Mark Saunders, a Postal Service spokesman, since the Postmaster General's Citizens' Stamp Advisory Committee chooses only 20 subjects a year to appear on stamps from approximately 40,000 suggestions.
"The committee selects individuals to be on stamps based on accomplishments in their fields, and Cash was a natural fit," Saunders told MyFox8.com."He has a huge following, and extends from country to rock 'n' roll to rhythm and blues."
The stamp, like many commemorative stamps, is expected to be a big seller since people who might not normally buy stamps will pick them up as a collector's item.
A decade after his 2003 death, Cash remains a popular figure with million-dollar sales. A celebration of what would have been his 80th year started last spring and efforts to preserve his legacy continue in Nashville and his birthplace in Arkansas. The Johnny Cash Museum formally opened in downtown Nashville last week and efforts are underway to save Cash's childhood home in Dyess, Ark.
The Associated Press also contributed to this report.