Sex offender charged with abduction, murder in 1975 disappearance of Maryland sisters
An imprisoned sex offender has been charged with first-degree murder in the disappearance of two sisters from a suburban Maryland mall in 1975, authorities announced Wednesday, bringing some clarity to the baffling case that made parents question whether to allow children to leave their homes without an adult.
Sheila Lyon, 12, and Katharine Lyon, 10, walked from their house to the Wheaton Plaza Mall in March 1975 to see Easter decorations and eat pizza. They did not return home and their remains were never found.
After decades of investigating leads and periodically identifying suspects, officials said they now know who was responsible: Lloyd Lee Michael Welch Jr., 58, a child sex offender serving a lengthy prison term in Delaware.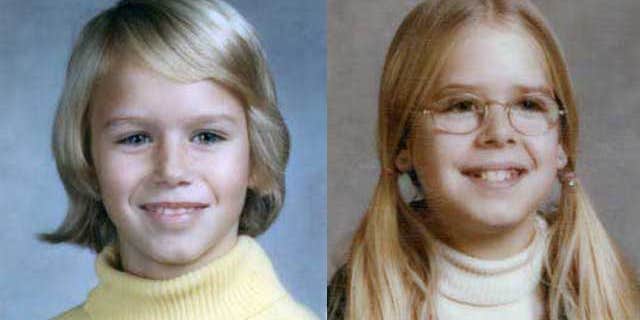 Welch was indicted on the two first-degree felony murder charges by a grand jury on Friday, officials said. The indictment initially was sealed.
"This case has never left the collective consciousness of this police department nor our community," John McCarthy, the state's attorney for Montgomery County, Md., told reporters during a press conference Wednesday.
"We know what Katherine and Sheila were like. ... These were wonderful, wonderful, naive, young children," said McCarthy. "It has remained with us forever."
At the time of the girls' disappearance, Welch was an 18-year-old carnival worker and drifter who had been spending time in the Wheaton area. Authorities have established that he was at the mall the day the girls vanished and was seen paying attention to them.
Since last year, authorities have been searching a mountain in Bedford County, Va., about 200 miles from Wheaton, for their remains. The grand jury in that county returned an indictment, and county Sheriff Mike Brown announced the charges Wednesday.
If convicted, Welch could face 20 years to life in prison, or could be put to death, said Randy Krantz, commonwealth's attorney in Bedford County. He declined to elaborate.
Lloyd Welch had previously been named as a person of interest along with his uncle, 70-year-old Richard Welch. Richard Welch's wife, Patricia, was charged with perjury after testifying before the grand jury in December.
Lloyd Welch denied involvement in the girls' disappearance in a letter to The Washington Post. Richard Welch, who lives in Maryland, has declined to comment.
According to police affidavits obtained by The Post, Lloyd Welch told investigators that he left the mall with the two girls and that he saw his uncle sexually assaulting one of them at his home the next day. Lloyd Welch told investigators he left the home and never saw the girls again, according to the affidavits.
The Post also reported that Welch asked a relative in rural Virginia to wash bloody clothes that he was carrying in a duffel bag, according to a search warrant affidavit. Welch told the relative that the blood was from raw hamburger, but investigators believe that it could link him to the Lyon sisters' presumed deaths, The Post reported, citing the affidavit.
Authorities said Welch has been charged with abduction and murder with the intent to defile. He faces two counts of murder, one for each victim, McCarthy said.
Officials stressed Wednesday that the investigation remains active and declined to elaborate on the evidence they said has been obtained. Authorities said 16,000 hours were spent on this case over the last 2 years and 50 search warrants issued.
FoxNews.com's Cristina Corbin and The Associated Press contributed to this report.