San Francisco homeless remain in 'unhealthy' tent city despite order to vacate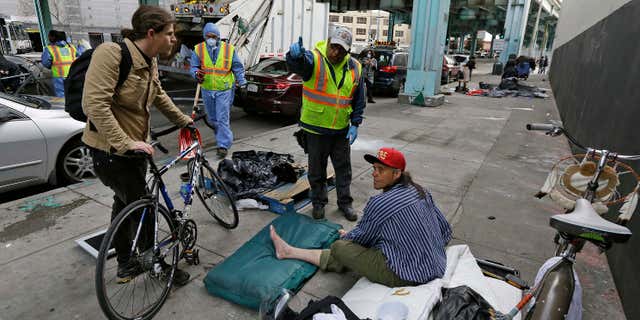 About 30 tents remained in place Friday as the deadline for homeless people to vacate a San Francisco tent city came and went without any action.
The homeless living in the encampment had until 5 p.m. Friday to clear out, Sam Dodge, the mayor's point person on homelessness, said. City officials and the San Francisco Police have not said what they intend to do with the tent residents.
City officials said Tuesday they were giving the tent city's residents 72 hours to move out of the camp after declaring the area along a busy San Francisco street a health hazard. At its height, nearly 140 tents populated the area, drawing complaints from residents and businesses.
According to The New York Times, the city took aim at about 50 tents near a highway overpass which was home to about 6,000 homeless people because of the "accumulation of garbage, human feces, hypodermic needles, urine odors" and other unsatisfactory conditions.
The homeless and their advocates say they need more services and homes for the unhoused. An estimated 3,500 people sleep on the streets of San Francisco each night.
"I'm not going to let somebody run me out of somewhere where I've made my home," said camper Patrita Tripp, as she dished cold beef pasta out of a can earlier this week. "Where am I supposed to go?"
However, businesses have complained about the tents. In one instance, a founder of a technology starter posted a letter to San Francisco Mayor Ed Lee, complaining that he "shouldn't have to see the pain, struggle and despair of homeless people" on his way to work.
The letter, which went viral, was soundly mocked on social media for its whiny lack of sensitivity but writer Justin Keller is not alone in demanding the city do more about homelessness.
People who live near the tent city, for example, testified at a city hall hearing on Thursday that they were afraid to step outside their homes due to aggressive behavior. The tents are along Division Street, a multi-lane thoroughfare that divides two rapidly developing neighborhoods, the South of Market and Mission districts.
On Friday morning, city workers sprayed bleach and power-washed one side of the street as campers packed up some half-dozen tents. City outreach workers are prodding many to move into a large canopy shelter on Pier 80 that has 150 sleeping mats.
The health department posted notices Tuesday evening, calling the encampments a public nuisance and ordering people to leave within 72 hours. On Thursday, health officials posted a notice for homeless campers to vacate a neighboring area.
Rachael Kagan, a spokeswoman for the Department of Public Health, said the enforcement order would have to be done "on a case-by-case" basis, the Times reported.
It's uncertain what will happen to campers who refuse the order.
The Associated Press contributed to this report.