Richard Spencer ends University of Florida speech early to boos, protests
In a controversial speech at the University of Florida (UF) on Thursday, self-proclaimed "alt-right" leader Richard Spencer spoke about his white supremacist views, despite being booed and protested throughout.
Spencer, who was scheduled to speak for two hours, ended the event early and reportedly placed blame on UF for the event's disruptive crowd.
Audience members loudly jeered, interrupted and chanted throughout Spencer's speech at the school's Phillips Center for Performing Arts Thursday afternoon, turning variations of "Go home, Spencer" and "F--k you, Spencer" into a prolonged shouting match.
"What are you trying to achieve then?" Spencer asked in response to those protesting. "You all have an amazing opportunity to be a part of the most important free speech event perhaps in our lifetime. This is when the rubber hits the road with the question of the First Amendment."
WHAT IF UNREPENTANT RACIST RICHARD SPENCER GAVE A SPEECH AND NOBODY CAME?
While protesters tried to drown Spencer out with chants of "Say it loud, say it clear, Nazis are not welcome here!" his supporters, according to the Miami Herald, responded by shouting: "You will not replace us!"
That phrase was chanted among white supremacists at Spencer's "Unite the Right" rally in Charlottesville in August, which left 32-year-old Heather Heyer dead.
The New York Post reported that when Spencer tried to talk about Heyer Thursday, the audience shouted, "It's your fault!"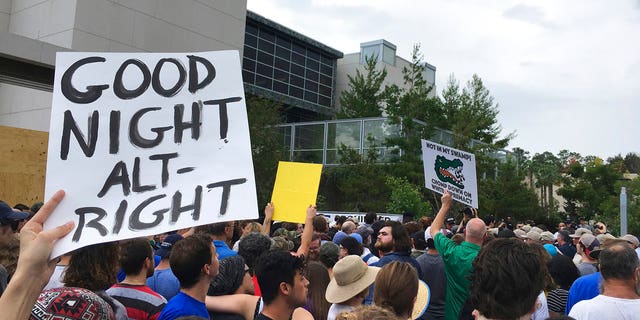 "You think that you shut me down. Well you didn't. You failed at your own game...the world is going to have a very different impression of the University of Florida. The world is not gonna be proud of you," Spencer told the crowd as he departed, according to the Miami Herald.
While about 700 tickets were available for Thursday's event, according to the Los Angeles Times, it was not immediately clear how many people were in attendance.
Protests outside the event were ongoing after Spencer left the campus. Earlier in the day police arrested 28-year-old Sean Brijmohan, who was allegedly hired as an armed security guard for a media group, for carrying a firearm on school property.
MICHIGAN STATE SUED AFTER REJECTING SPEECH SPACE FOR WHITE NATIONALIST RICHARD SPENCER
Spencer's appearance in Gainesville sparked controversy and preparation days earlier when Gov. Rick Scott declared a state of emergency for Florida's Alachua County ahead of his speech.
Scott said a "threat of potential emergency is imminent" in Alachua County, where UF's Gainesville campus is located.
UF President W. Kent Fuchs said Wednesday that while he believes in free speech, Spencer is "hijacking" public universities, which are compelled by the First Amendment to provide a speaking platform – and taxpayers are the ones getting hit with the unfair burden of paying the security fees.
Fuchs said a day before the speech that the school expected to spend around $600,000 for security. Spencer paid $10,564 to rent space at UF for the event.
The Associated Press contributed to this report.