Rabbit rescued from California wildfires by anonymous hero
A California man faced the flames of the state's life-threatening wildfires Wednesday and traversed perilous terrain to rescue a helpless resident -- a wild rabbit.
The unidentified man, wearing shorts and a red hoodie, jumped up and down in an attempt to lure the rabbit to safety, a scene captured by KABC's cameras. Trees and bushes engulfed in flames were just inches away as the man worked to save the cottontailed Californian.
The rabbit eventually jumped toward the man after a brief chase. The man knelt down, picked him up and carried the rabbit to safety.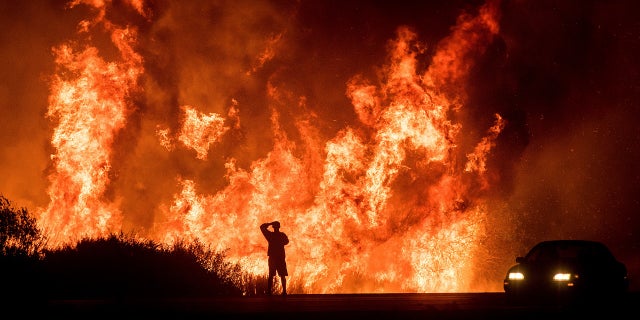 It's unclear where the man took the rabbit. A photographer in the area captured the incident, however, the man declined to be interviewed, KABC reported.
About 200,000 people have been forced to evacuate California after the blazes broke out earlier this week. Firefighters have battled to save multimillion-dollar homes in the path of the flames while trying to evacuate residents.
"These are days that break your heart," Los Angeles Mayor Eric Garcetti said during a news conference. "These are also days that show the resilience of our city."
Fox News' Travis Fedschun contributed to this report.