Prep school grad convicted in sex case requests a new trial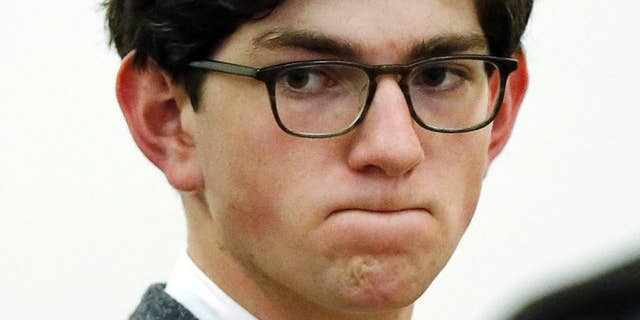 A New England prep school graduate convicted of sexually assaulting a 15-year-old freshman as part of a game of sexual conquest is seeking a new trial, saying his former lawyers were ineffective.
Owen Labrie, 20, was convicted in August of misdemeanor sex assault charges and a felony charge of using a computer to lure an underage student for sex. He was acquitted of felony rape. The computer charge carries the mandate to register as a sex offender for life. He was sentenced to a year in jail.
In her motion sent to a court Tuesday, Jaye Rancourt said Labrie's lawyers didn't challenge the computer offense until after his trial and conviction.
"Trial counsel essentially argued that they did not believe the computer offense could stand if Mr. Labrie was found not guilty on the aggravated felonious sexual assault charges," Rancourt wrote. "Presumably, the trial strategy was to challenge the aggravated felonious sexual assault challenges, assuming that the computer offense would thereby be defeated."
She added: "This rationale and understanding was fundamentally flawed."
Rancourt said the lawyers also failed to investigate the girl's social media accounts, as requested by Labrie. She wrote it was likely that the girl's Facebook exchanges "would have contained information which may have been used to challenge her credibility regarding her allegations of a forcible rape occurring."
Labrie's lead trial lawyer was J.W. Carney Jr., who also represented Boston gangster James "Whitey" Bulger. A message was left Wednesday seeking comment from Carney.
Labrie, of Tunbridge, Vermont, was arrested in 2014 days after graduating from St. Paul's School, an elite prep school in Concord.
He was 18 at the time of the encounter in a near-deserted building on campus. Prosecutors linked the assault on the girl to a competition at St. Paul's known as the Senior Salute in which some seniors seek to have sex with underclassmen.
Labrie was free on bail as he appeals his case, but a judge sent him to jail last month after Labrie acknowledged he violated his bail agreement by repeatedly missing curfew.