Preachers split over NC sheriff's church ban for sex offenders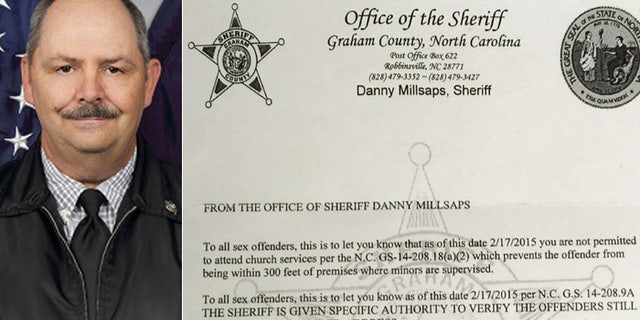 Preachers in a rural North Carolina county are split on a sheriff's edict banning sex offenders from attending Sunday church services.
Graham County Sheriff Danny Millsaps last month sent letters to the 20 registered sex offenders in the sparsely populated county, telling them they were not welcome in the community's sanctuaries, based on an existing law.
"Not in my particular congregation, we don't bar the gates of Heaven."
"You are not permitted to attend church services," the letter read, citing a law that prevents offenders from being within 300 feet of premises where minors are supervised.
Clergy in the county of just 9,000 people were divided over shunning sex offending sinners.
"I don't like them around little children, they need to get straight," the Rev. Burlen of Aldridge Bethel Baptist Church said. "If they do come to our church, we will not run them off. But we will try and convert them to a better place."
But Michelle Shiplet, of Church Mouse Ministries, said everyone is welcome at her house of worship.
"Not in my particular congregation, we don't bar the gates of Heaven," Shiplet told FoxNews.com.
She said the protection of children and the prayers of the paroled are not mutually exclusive.
"People with those issues have a sponsor and are not allowed with children unsupervised," she said.
Millsaps told the Asheville Citizen-Times he would make his county jail available for Sunday worship services, and added that he does not intend to arrest sex offenders who try to sneak into a church for services.
"I understand I can't keep them from going to church," he said. "That may have been misunderstood. I'll be the first one to say I might have made mistakes in the wording of that letter."
Graham County Manager Greg Cable said the county attorney is reviewing Millsaps' interpretation of the law. The American Civil Liberties Union in Raleigh told the newspaper it is also studying the letter to determine whether it violates the rights of offenders.
Dr. Stuart Groll, of The Association for the Treatment of Sexual Abusers, said a blanket ban of sex offenders is "naïve."
"There are too many levels of sexual offenders," Groll said. "To make one label on all is incorrect.
"I understand people's fears, but they should come in and talk to them and educate instead of just panicking," he added.