Porn star faked shark bite in viral video, diving company says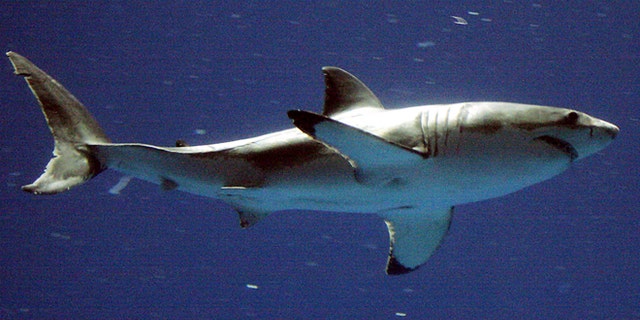 A porn star apparently pretended to get bit by a shark on her foot while diving with the fish last week in Florida in an effort to get the video of the chomp to go viral.
Molly Cavalli and a film crew spoke to the owner of Florida Shark Diving, Bryce Rohrer, asking him to help them stage a shark attack for a video that will gain some attention online, according to the Palm Beach Post.
SHARK MAULS TRAINED SHARK-SPOTTER BODYBOARDING OFF FRENCH ISLAND
"I was talking directly to Molly and she just said, 'hey, we are looking to do a shoot faking a shark bite and it's strictly in order for it to go viral,'" Rohrer said to the Palm Beach Post.
Rohrer declined the proposal saying it would demonize sharks and put them in a bad light. He also kept a screenshot of a text message from Cavalli explaining that the "bite" was created using make up.
MAN RESCUED AFTER SHARK ATTACKS KAYAK OFF AUSTRALIAN COAST
Cavalli and the crew went with another boat and the actress was able to film the video of the "attack" off the coast of Palm Beach County. The video earned more than 14 million views.
Cam Soda, the adult film company that employed Cavalli, said she needed 20 stitches after being bit in the foot by a lemon shark. The website showed a number of pictures of the actress, including one of her balancing on crutches while sporting a bandaged foot.