Plane catches fire on Florida runway
One person sustained serious burn injuries after a Dynamic Airways plane caught fire while taxiing on a Florida runway Thursday.
Officials said 15 people were transported to Broward Health Medical Center, three for serious injuries and 12 with bumps and bruises. Authorities said the 101 passengers and crew on the plane were evacuated within minutes of the initial call for help.
The blaze, which was centered around the plane's left engine, was also extinguished quickly, thanks in part to emergency units being located just a mile from the airport.
The first call for help came in just after 12:30 p.m., as the Boeing 767 was on Taxiway B and headed for departure at Fort Lauderdale-Hollywood International Airport. Dynamic International Airways Flight 405 was headed to Venezuela, airport officials told the Miami Herald.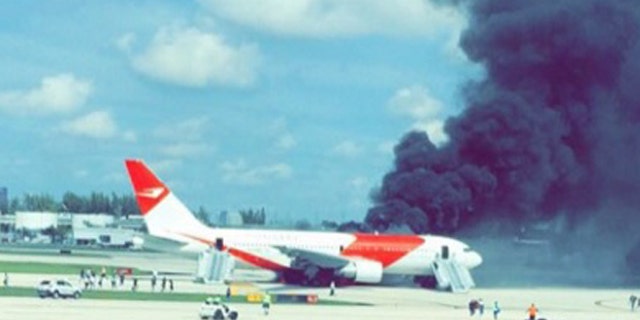 Audio communication indicated a fluid leak followed by someone shouting "There's a fire!" according to the Herald.
The FAA, in a statement, also suggested that a leak may have caused the fire.
"At about 12:45 p.m. an aircraft taxiing behind the Boeing 767 reported that fuel was leaking from the aircraft before the fire started," the statement said. "Passengers evacuated via slides onto the taxiway."
Dynamic is a small airline that connects Fort Lauderdale, New York, Venezuela and Guyana.
The airport had been shut down for a period on Thursday, but reopened at 3:20 p.m.
"Fortunately in this scenario, 12:30 is not our busiest time," FLL spokesperson Greg Meyer said. "Had this happened later in the day it would have had more of an impact."
The National Transportation Safety Board says it hasn't yet made a decision on whether to launch an investigation into a commercial airplane fire at Fort Lauderdale-Hollywood International Airport in Florida.
The NTSB says it is monitoring Thursday's fire, which engulfed one engine on a Dynamic Airways Boeing 767. Airport spokesman Greg Myer told WSVN-TV that the fire was quickly put out. The plane was taxiing for takeoff to Venezuela when the left engine caught fire. The pilot on a trailing airplane said the engine had been leaking fuel.
The Associated Press contributed to this report.