Photo of boy hugging officer at Portland's Ferguson protest goes viral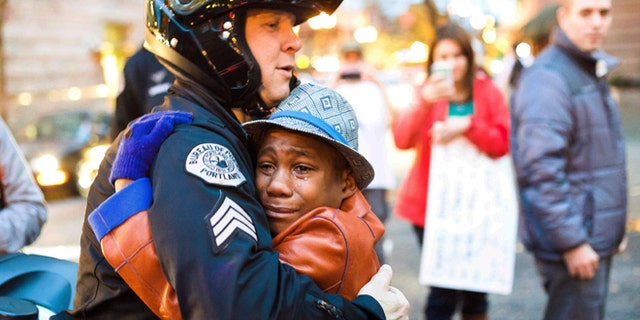 A touching photo that captures a helmeted white police officer hugging a teary-eyed 12-year-old African-American boy at a Ferguson shooting protest in Oregon has gone viral on social media.
More than 150,000 Facebook users shared the image hours after The Oregonian newspaper posted it on its website.
Freelance photographer Johnny Nguyen snapped the picture when Portland Police Sgt. Bret Barnum and 12-year-old Devonte Hart embraced at a Nov. 25 rally protesting the decision of a Missouri grand jury not to indict Ferguson police officer Darren Wilson in the shooting death of teen Michael Brown.
Barnum told the newspaper the hug took place after he saw Devonte in the crowd at the rally with tears in his eyes holding a "Free Hugs" sign.
"There were generic questions about his favorite subject and what he liked to do in the summer, but the one that mattered hit straight to the heart. He asked Devonte why he was crying," the boy's mother Jen said on Facebook.
She said the moment "was one of the most emotionally charged experiences I've had as a mother."
The Associated Press contributed to this report