Penn State ex-President Spanier, other administrators sentenced in Sandusky case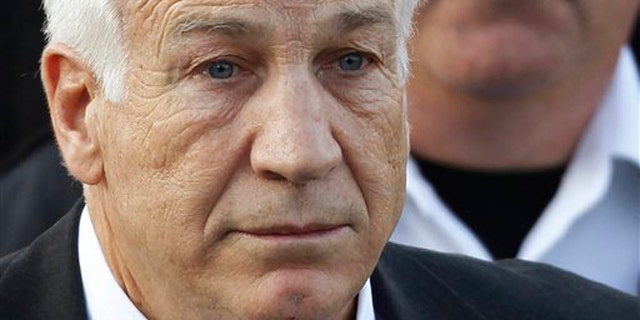 NEWYou can now listen to Fox News articles!
Ex-Penn State President Graham Spanier and two other former school administrators were sentenced Friday to at least two months in jail each for failing to report now-convicted sexual predator Jerry Sandusky to law enforcement.
The judge sentenced Spanier and the university's former vice president Gary Schultz to two months in jail while former athletic director Tim Curley got three months. Each faces additional time in house arrest, Fox 43 reported.
A graduate coaching assistant said he told administrators that he saw Sandusky molesting a boy in a football team shower in 2001. But Spanier, Curley and Schultz didn't report him to child welfare authorities or police.
In addition to the prison time, house arrest and 200 hours of community service, Schultz and Curley were fined $5,000 each and Spanier was ordered to pay $7,500, the Centre Daily Times added.
Sandusky was not arrested until a tip in 2011 led investigators to interview the shower witness. Sandusky is now serving a 30- to-60-year sentence for abusing 10 boys, but is appealing.
Spanier also plans to appeal.
Prosecutor Laura Ditka called him a "failure as a leader," saying he chose to protect his reputation over the well-being of innocent children.
All three men apologized before Judge John Boccabella sentenced them.
"I deeply regret that I did not intervene more forcefully," Spanier said.
"I am very remorseful I did not comprehend the severity of the situation. I sincerely apologize to the victims and to all who were impacted because of my mistake," Curley told the court.
EX-INVESTIGATOR GETS LIGHT SENTENCE AFTER TAKING BIG BRIBE
Said Schultz: "It really sickens me to think I might have played a part in children being hurt. I'm sorry that I didn't do more, and I apologize to the victims."
The scandal led to the firing of longtime football coach Joe Paterno shortly after Sandusky's arrest, and he died of cancer two months later at the age of 85.
Describing the case as a "Shakespearean tragedy," the judge also chided Paterno for failing to report the crimes, saying: "Paterno could've made that phone call without getting his hands dirty."

The Associated Press contributed to this report.