Passengers suing Carnival over crippled cruise seek $5,000 a month for life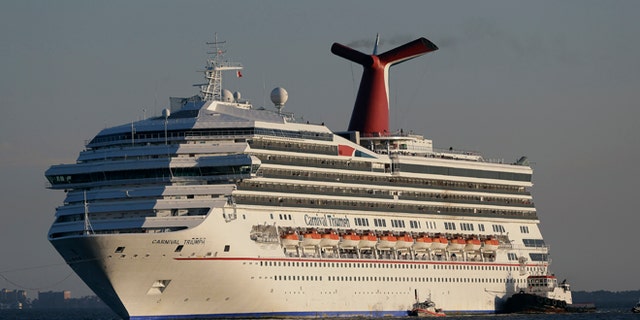 A group of passengers suing Carnival Corp. for damages after sailing on the ill-fated Carnival Triumph cruise ship that drifted at sea for days are asking the company to pay $5,000 a month for the rest of their lives for ongoing medical and mental problems.
The case stems from the February 2013 incident when a fire broke out in the ship's engine room during a four-day cruise, leaving the ship without engine power and most of its electricity, forcing passengers to endure human waste running down hallways, limited water supplies, noxious odors and extreme heat.
After about five days in the Gulf of Mexico, the ship was finally towed to Mobile, Ala., and Carnival sought to make amends by offering each passenger a $500 check, a voucher for a future cruise, refunds of most on-board expenses and reimbursement for transportation, parking and other expenses.
Many of the 33 passengers involved in the trial complain of lingering emotional issues such as PTSD, anxiety and depression; some have physical ailments they blame on squalid conditions, including leg pain, diarrhea, upper respiratory problems and even aggravated hemorrhoids.
Most of the passengers are seeking $5,000 in damages a year from Carnival for the rest of their lives, claiming they will need continuous medical monitoring because of what happened aboard ship. They want the money in lump sums based on government tables estimating their life expectancies.
One of the plaintiffs, Debra Oubre, 59, told Reuters she has experienced panic and anxiety attacks since the cruise, and also blames the voyage for a urinary tract infection.
"It was chaotic. People were in dire need of help," Oubre said. "We were standing in line for food for five hours."
In a statement to Reuters, Carnival Corp. said that while it recognizes its guests experienced uncomfortable conditions, all passengers returned safely and were provided with a full refund.
"This is an opportunistic lawsuit brought by plaintiff's counsel and plaintiffs who seek to make a money grab," a company spokeswoman said.
Carnival attorney Curtis Mase has asked Senior U.S. District Judge Donald Graham to reject all of the damage claims. In court papers, Mase said the passengers either haven't proved their health issues are linked to the Triumph cruise or haven't shown they suffer from any lingering problems at all.
The passengers, Mase wrote, "are not entitled to damages simply for experiencing the conditions on the vessel." And, he added, "they failed to prove that Carnival's conduct was the legal cause of the injury."
Judge Graham, who is hearing the case without a jury, has ruled that passengers cannot collect punitive damages and may only get damages for past and future medical costs that are conclusively linked to what happened on the Triumph.
Reuters reported that Graham already dealt a major blow to the cruise line by ruling that the engine catching on fire is proof alone of negligence on Carnival's part.
"It would seem rather obvious that ships shouldn't just catch fire and then have fire suppression systems that don't work," Robert Peltz, a Miami maritime lawyer, told the news agency.
After the cruise, Carnival announced a $300 million program to add emergency generators, upgrade fire safety and improve engine rooms on all 24 of its ships. The cruise line also said it would repay the U.S. government an unspecified amount for the costs to taxpayers of responses to disabling accidents on the Triumph and a previous disabled ship, the Splendor.
The Associated Press contributed to this report.
Click here for more from Reuters.