Parkland shooting student injured after shielding classmates released from hospital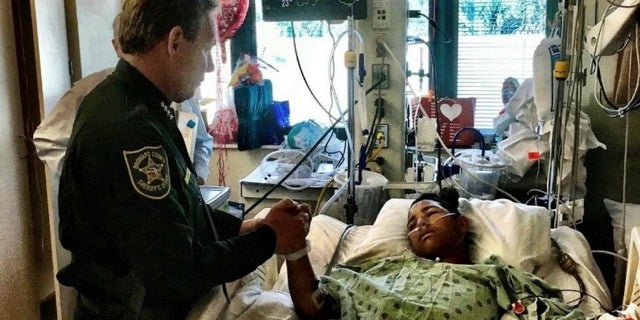 A student who was shot five times shielding classmates during the Florida high school shooting in February that left 17 people dead was released from the hospital Wednesday.
Anthony Borges, 15, a student at Marjory Stoneman Douglas High School in Parkland, was hailed a hero after he used his body as a barrier to protect the lives of 20 other students after accused gunman Nikolas Cruz opened fire at the school.
Borges told the "Today" show that he felt "good" after his stay at Broward Health Medical Center in Fort Lauderdale. The teen underwent nine surgeries following the shooting. The teen's attorney, Alex Arreaza, said Borges has a long recovery.
PARKLAND SHOOTING SURVIVOR BACK IN INTENSIVE CARE AFTER 'EMERGENCY OPERATION'
Borges' classmates and friends gave him the nickname "the real Ironman" following his courageous act, the South Florida Sun-Sentinel reported. The teenager was one of the more severely wounded survivors of the attack. He underwent an emergency operation last month to treat an infection.
Borges had a third of his lung removed and a bullet was close to hitting his liver, according to the Sun-Sentinel. When the "Today" show asked if he was "lucky to be alive," Borges answered "yes."
The heroic teenager has also received letters from people in his native country Venezuela, which called him a "luchador," meaning fighter.
FRANK STALLONE APOLOGIZES FOR PROFANITY-LACED TWEET DIRECTED TOWARD PARKLAND SHOOTING SURVIVOR
Borges, who came to Florida from Venezuela three years ago, was a Boy Scout and well-known for his soccer skills, playing as a forward and training with FC Barcelona's youth academy near Fort Lauderdale.
Borges' family was the first to announce their intent to sue Broward County officials for money to cover costs of his recovery. More than $793,000 has already been raised for the teenager on a GoFundMe page.
No More Tears USA, a nonprofit dedicated to providing assistance to victims of human trafficking and domestic violence, announced last month that it set up the fund for Borges.
Somy Ali, the group's founder, told the Sun-Sentinel the organization put security deposits down to pay for a house for the family.
The family lives in a four-story apartment building, but with Borges' injuries it would make it difficult to travel up and down stairs.