Park space honoring Confederacy rededicated to Harriet Tubman in Baltimore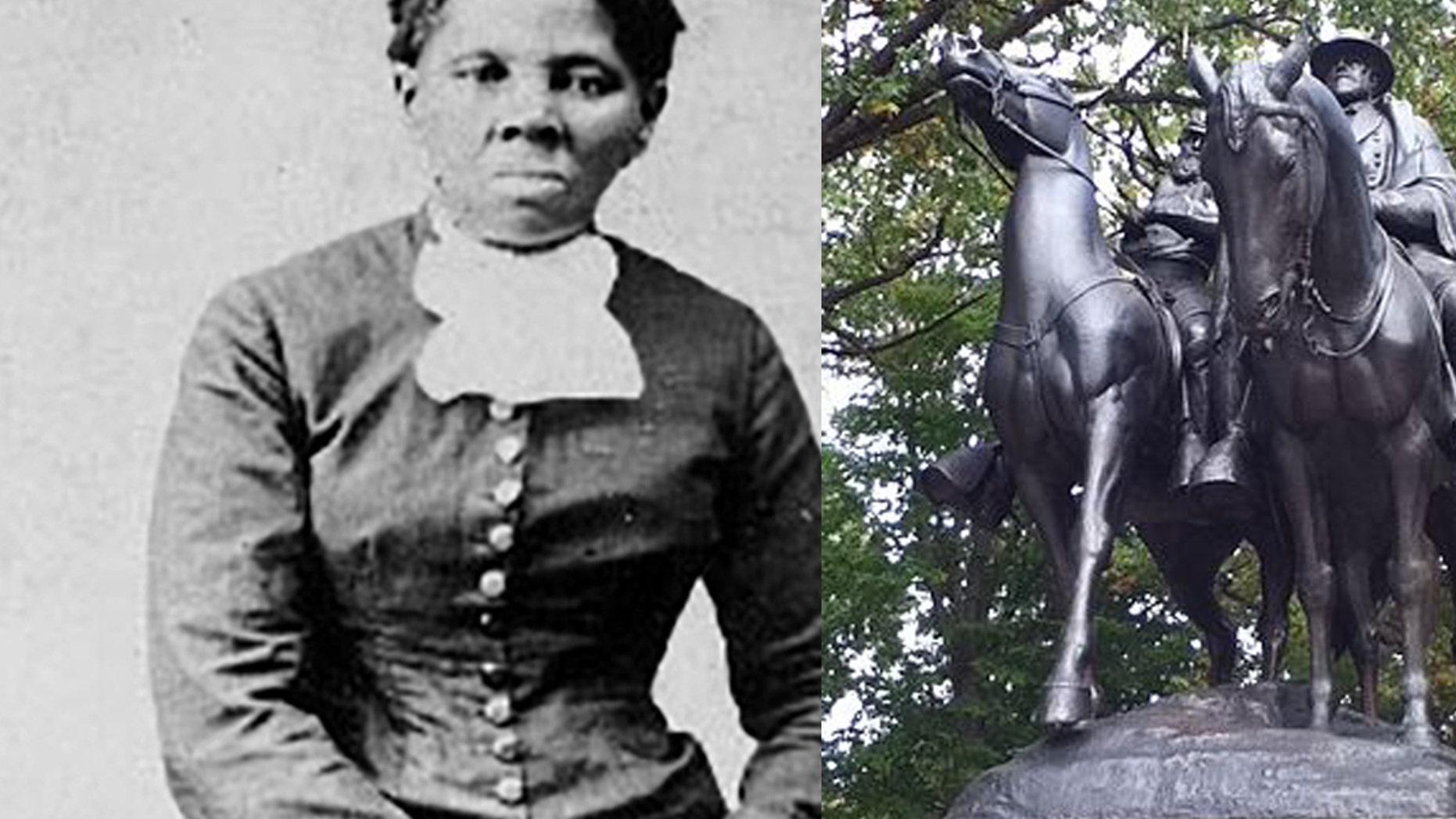 More than six months after a statue of Confederate Generals Robert E. Lee and Stonewall Jackson was removed from a Baltimore park, about 200 residents and elected officials gathered to rededicate the space to abolitionist and Underground Railroad conductor Harriet Tubman.
The Saturday ceremony in Wyman Park Dell, on the 105th anniversary of Tubman's death, happened only a few feet from the bare pedestal where a large, bronze statue of Lee and Jackson riding horses once stood. The space will now be called Harriet Tubman Grove.
"We stand on the shoulders of this great woman," Ernestine Jones-Williams, 71, a descendant of the iconic civil rights leader who spoke on behalf of the family, said, reports the Baltimore Sun. "We are overwhelmed. Overwhelmed. Thank you, and God bless you."
The statue had stood in the park since 1948, but was removed in August amid a national debate and protests over Confederate monuments and symbols, and how they are viewed. Many people see them as offensive reminders of slavery and racism -- while others consider them a part of their Southern heritage.
Although the public reckoning over the monuments began in the wake of Dylann Roof's deadly rampage in an African-American church in South Carolina, it gained momentum after work by Black Lives Matter activists and the deadly Charleston riots that resulted in the death of counter-protester Heather Heyer. Nationwide, at least 25 statues or monuments honoring the Confederacy have come down.
Baltimore Mayor Catherine Pugh's administration removed four Baltimore monuments with ties to the Confederacy mere days after the Charlottesville rally in a quiet, overnight operation, citing "safety and security" concerns at the time.
WHICH CONFEDERATE STATUES WERE REMOVED? A RUNNING LIST
Carolyn Billups, former president of the Maryland chapter of the United Daughters of the Confederacy, at the time called the city's action sneaky.
"Rats run at night," she told the Baltimore newspaper. "It's very saddening, but at least the monuments were not torn down by angry mobs."
Ciara Harris, chief of staff to Baltimore Recreation and Parks Director Reginald Moore, said the statue's removal has helped turn the park into a gathering place for residents of all backgrounds to meet and talk in a positive space.
"Harriet Tubman Grove will provide the city an opportunity to correct historic injustice to a Maryland native. Our city is properly recognizing an African-American hero," said Harris.
City Councilwoman Mary Pat Clarke called Tubman a "heroine and beacon for all ages."
Tubman, who was beaten and whipped by her slave masters as a child, eventually escaped to Philadelphia and rescued several members of her family. When the Civil War broke out, she worked for the Union Army and guided the raid at Combahee Ferry -- which led to the liberation of 700 slaves.
Jackson Gilman-Forlini, 28, of the city's Abell neighborhood, who is studying how society re-contextualizes monuments and memorials over time as part of a master's degree program in historic preservation at Goucher College, told the Sun the rededication was a great thing for the city.
"Monuments are seen as permanent, sort of monolithic structures, but inherently their meanings change over time, and really the removal of these monuments was not so much about monuments in general, but about the kind of values that we as a society want to promote," said Gilman-Forlini, who served on the task force last year that studied the removal of the city's Confederate monuments.
"This is now the next logical step in the process of asserting those values, those positive values of inclusion, of tolerance, of speaking out against prejudice," he said.