Ousted red light camera firm used robocalls to run down scofflaws, lawsuit claims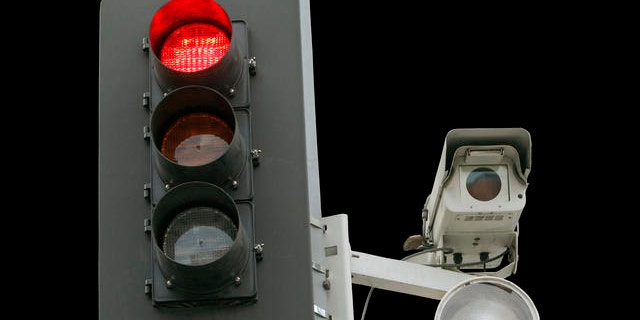 Angry drivers ran red light cameras out of Albuquerque, but they're still fighting the company that operated the ticket-generating machines after its collection agency robo-called suspected scofflaws in an alleged violation of a federal law.
Like municipalities across the nation, the New Mexico city hired a company, in this case Redflex Traffic Systems, to capture images of drivers running through red lights and then issue tickets. The deals have helped more than 500 cities and towns bring in revenues, which they share with operators. But Albuquerque residents voted in 2011 to drop the program and the cameras came down.
"Red-light cameras are a scam and they do not contribute to an increase of safety at intersections," Albuquerque City Councilor Dan Lewis, who sponsored the repeal, said at the time. "They do not decrease accidents. They're, in fact, a false sense of security; a false sense of safety."
But Albuquerque and Redflex still had tickets to collect on, and the Phoenix-based company hired Creditwatch Services, a collection agency, to collect what it claims amounts to millions in unpaid tickets. Creditwatch proceeded to make robocalls to drivers, which is a violation of federal law, according to a class-action lawsuit.
The lawsuit alleges that the company's tactics violate the Telephone Consumer Protection Act, a federal law enacted in 1991 that prevents individuals from receiving such automated calls on their cellphones.
"What they're doing that violates the law is they're calling people on their cellphones using robocalls," attorney Rob Treinen, who represents two drivers in the lawsuit, told ABC affiliate KOAT-TV. "We know from Creditwatch's own records that there were 89,000 people that were being collected against."
"People shouldn't be making robocalls to cellphones," Treinen told the station. "Congress determined it was an invasion of privacy."
The pre-recorded message addresses the driver by name and says Creditwatch Services is calling to "discuss a potential civil citation file in your name" and "a special offer to reduce the fines and penalties for the citation."
Redflex has been aggressive in seeking payment for the tickets it issued before voters kicked it out of town.
One Albuquerque couple, Marcella Braca and David Crosby, told KOB this week that Redflex reopened emotional wounds when it pursued her and her husband for tickets issued to her son, who died of cancer in 2012. They told the station they received multiple letters from the company demanding payment, even after they told Redflex officials their son had died.
"No explanation. Just, here's how much you owe," Crosby said.
In fact, when they complained a Redflex official determined their son had actually racked up nine unpaid red light tickets, not five, they told the station. With late fees, the outstanding balance was $2,163, they were told.
Redflex refuses to say how much it is still owed in unpaid red light tickets in Albuquerque, citing the pending class-action suit. But KOB reported that in 2013, the company claimed it was still owed $13 million.
The drivers named in the class-action lawsuit say they never provided their cellphone numbers to Redflex or Creditwatch, nor did they consent to the robocalls.
City officials, meanwhile, are allowing Redflex and the collection agency to use robocalls to collect their debt.
A statement on the city's website reads: "The city is required to collect the unpaid fines under New Mexico law. All fines have to be collected no matter how old the citation is. We are in the wind-down phase of the city's Red Light Camera Program, which the voters elected to cancel."
"However, the cancellation of the program does not cancel the debt owed by individuals charged with a violation before the program was terminated," the statement says. "Otherwise, it would not be fair to those who paid if there are no consequences for those who did not pay."
The city goes on to state that individuals must still pay citations that were received many years ago.
"These citations are still valid despite their age," according to the statement. "The City of Albuquerque is required to collect the unpaid fines no matter when the driver or owner of the car got the ticket."