Orlando nightclub gunman's wife pleads not guilty, blows a kiss in court
The wife of the Orlando nightclub gunman Omar Mateen pleaded not guilty Wednesday to helping her husband's terror plans, and blew a kiss at her uncle as she walked out of the courtroom.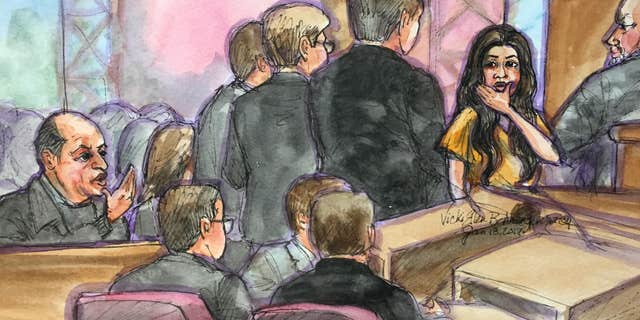 SUSPECTED ORLANDO COP-KILLER MADE ONE MISTAKE ENDING THE MANHUNT, POLICE SAY
Noor Salman, 30, entered her plea during a hearing in Oakland, Calif., which lasted less than 15 minutes. She's due back in court on Feb. 1 when a judge considers possible bail.
Salman shopped with Mateen at a Walmart where he bought five containers of ammo the night before the shooting, a source close to the investigation told FoxNews.com on Tuesday. The source added that the wife's social media posts demonstrated her support for ISIS.
TEEN ABDUCTED AS NEWBORN STILL LOVES ONLY MOM SHE'S KNOWN
Still, her attorney Haitham "Sam" Amin said after the hearing that the case was not cut-and-dry. "The government bears a heavy burden." Her uncle, Al Salman, called her "a soft, sweet girl."
Mateen opened fire at the Pulse nightclub in June 2016, killing 49 people and wounding 53 others. He died in a shootout with police after a 3-hour standoff at the club.
Salman appeared in court in a red Alameda County jail top and pants. She appeared pale and said nothing.
The FBI arrested her at her home in nearby Rodeo on Monday. Prosecutors charged her with aiding and abetting her husband's support of ISIS, as well as obstruction of justice.
As she faced a judge for the first time Tuesday, federal prosecutor Roger Handberg announced, "She knew he was going to conduct the attack."
Investigators said earlier that Mateen exchanged texts with his wife during the massacre, and that she drove him to the nightclub at least once beforehand.
Salman still insisted she had no idea what her husband was plotting. She told The New York Times that in the early years of their marriage, "he was a gentle spirit," before becoming increasingly violent.
FoxNews.com's Malia Zimmerman, Fox News' Mike Lundin in Oakland and The Associated Press contributed to this report.