One year later, officials stunned by 'betrayal' of Illinois cop who staged suicide
This Labor Day weekend marks one year since Fox Lake, Illinois Police Lieutenant Joe Gliniewicz staged his on-the-job suicide to look like murder—sparking a massive investigation and nationwide manhunt for three "killers" who didn't exist.
Fox Lake officials are still picking up the pieces of the stunning event. "It was a betrayal to the profession and the community," Chris Covelli, a Lake County Sheriff's Office detective, told FoxNews.com.
On Sept. 1, 2015, 52-year-old Gliniewicz radioed in from a rural area of Fox Lake that he was getting out of his cruiser to check on three suspicious men, two white and one black. A short while later Gliniewicz was found shot to death, one bullet hitting his bulletproof vest, the other striking him below the vest, near his heart. His glasses and other belongings were found strewn around the swampy area, leading investigators to believe the officer engaged in some type of struggle.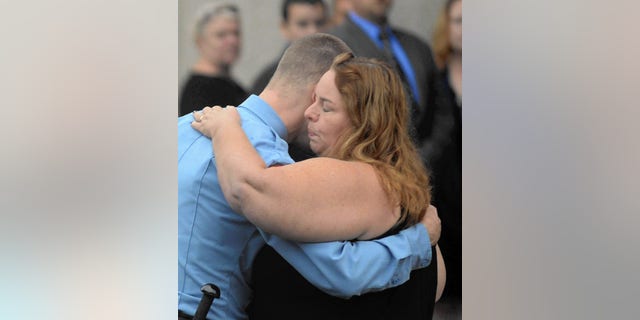 However, in a stunning twist, police discovered Gliniewicz carefully staged his suicide to look like murder. Investigators learned the corrupt cop apparently caved under the pressure of living a shocking double life for nearly two decades.
"It's unheard of in our profession that anyone would think to do something like that and it just shows the emotional state that he must have been in over all of this and knowing that we were getting closer to finding out what was really going on," said Fox Lake Village Administrator, Anne Marrin.
According to investigators, Gliniewicz embezzled tens of thousands of dollars from the Fox Lake Explorer program, the 'police academy for teens' he was hailed as a hero for managing for years. Police say Gliniewicz used the money for vacations, car repairs and even adult websites.
It was also discovered Gliniewicz had extramarital affairs and arranged for his own mistress to marry his son in order to gain added military benefits.
Perhaps the biggest bombshell was that Gliniewicz contacted a hit man to have Marrin murdered.
"It's crazy. I can't describe it any other way," Marrin said.
Marrin is credited with discovering Gliniewicz's corruption by asking the officer for paperwork to account for the spending and inventory of the Explorer program.
Following Gliniewicz's death, his wife Melodie immediately declared her husband a hero and murder victim.
However, through the massive federal and state investigation, officers concluded Melodie Gliniewicz was a partner in her husband's crimes. The pair even took an estimated $9,000 vacation to Hawaii -- allegedly on the Explorer program's dime.
Earlier this year Melodie Gliniewicz was indicted by a grand jury on charges of conspiracy, felony money laundering and misuse of charitable funds. She awaits trail. Attorneys for Gliniewicz say she is innocent and is a victim of her husband's schemes.
Melodie Gliniewicz also filed for her husband's pension, a total of $1.5 million in payments over 20 years, according to Marrin. The village pension board has approved a motion to withhold a decision on payment until after Melodie's criminal trial.
In addition to the embezzled funds, the couple obtained a substantial amount of military equipment including vehicles, helmets and vests through the 1033 Program, according to investigators. The federal program gives unused and dated military equipment to needy police departments.
Following Gliniewicz 's death, Marrin led the tedious task of itemizing each item Gliniewicz received. Marrin tells FoxNews.com the village has given items like flashlights and traffic cones to its police department. Military items have been placed in an inventory and will be returned.
The death of Gliniewicz came amid tensions between police and citizens in communities around the country and in the midst of the "Blue Lives Matter" movement.
Marrin says Gliniewicz's death marred that police support.
"Because of the betrayal, nationwide, it was a terrible thing that message was lost," Marrin said. "The worst part fell upon our police department. They had to carry the stigma of what that wayward officer did and that's unfair."