'Old West' cattle drive leads 200 animals to safety in Texas after floodwaters trap herd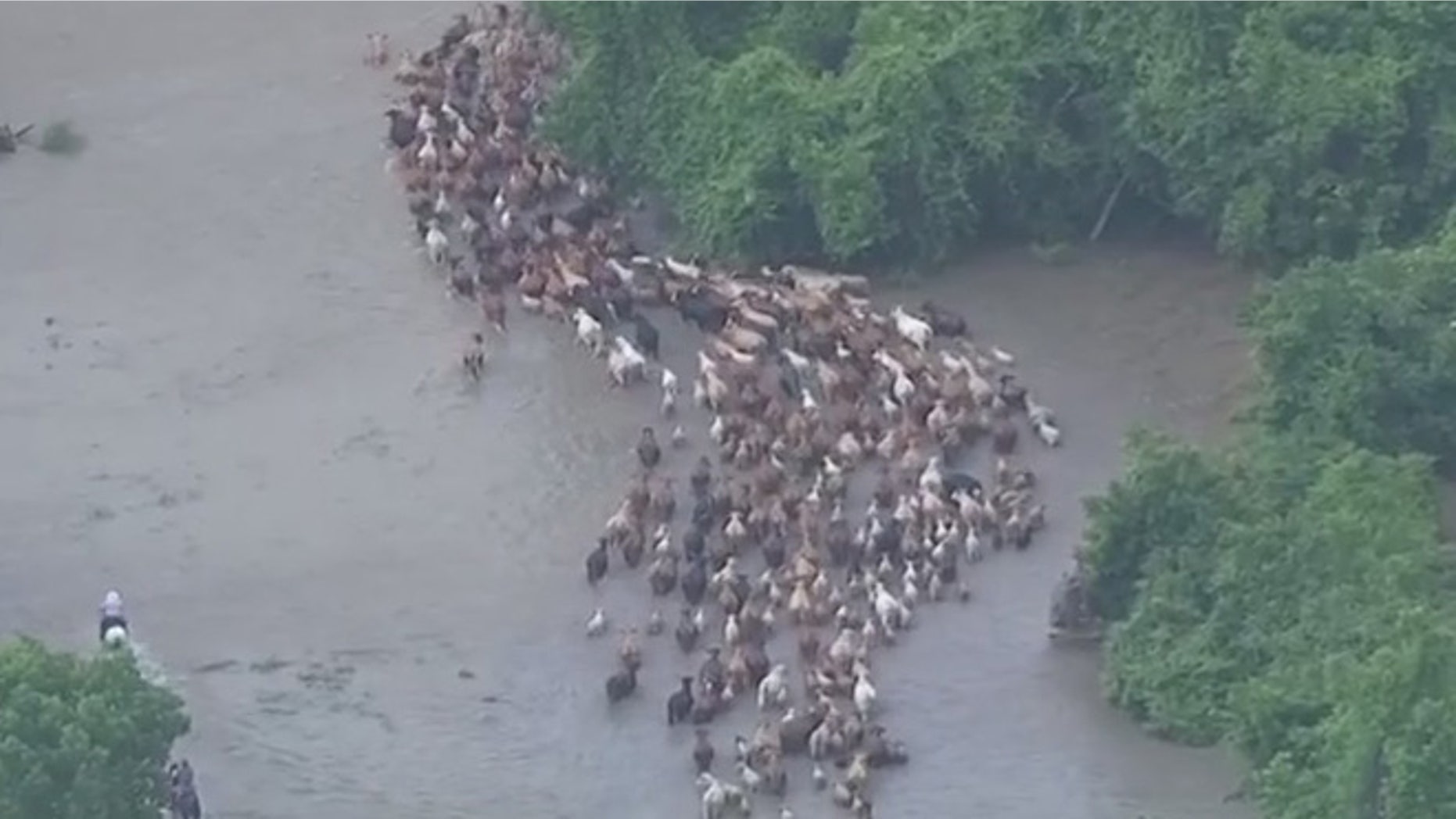 Threatening floodwaters in Texas prompted the rescue of at least 200 cattle Sunday as cowboys and law enforcement led the herd on a 9-mile journey described by residents as a "once-in-a-lifetime" spectacle.
In Liberty County, outside of Houston, the animals were stranded for days on a 50-acre piece of land in the Liberty Bell Ranch that had become a shrinking island as the Trinity River flooded.
More than 10 inches of rain has fallen during the last month over eastern Texas, with some areas receiving up to 20 inches, KHOU reports.
So local rancher Pat Henscey rounded up 150 cowboys, air boaters, volunteers and police officers to assist in a rescue effort that began Sunday morning, the Houston Chronicle reports.
The cows were urged through water, and calves that couldn't swim were put on boats and carried to land. Some of the cattle drowned in deeper waters, although officials did not have an estimate as to how many.
By the time the herd reached the town of Dayton, hundreds of people lined the streets to witness the event and take photos.
"It's not every day you see a cattle drive going through a major highway going through downtown," Liberty County Sheriff's Capt. Ken DeFoor told the Houston Chronicle. "You see that in the movies, but you don't see that in real life anymore."
Aaron Privett, who brought his fiancée and four daughters to see the herd, told KHOU that it is a "once-in-a-lifetime experience."
"It's really a taste of the Old West coming back in here," added resident Ricky Brown.
Nearly nine hours after the journey started, the cattle reached their stopping point at the CMC rail yards, and will stay there until floodwaters recede. At that point, the cattle will be transported back to the ranch by trailer.
"The cowboys did a tremendous job under some very difficult situations," DeFoor told the Houston Chronicle.