Oklahoma barbershop cuts Confederate flag in man's hair
A predominantly black barbershop in Oklahoma City fulfilled a customer's request by cutting the Confederate flag in a white man's hair -- sparking a heated debate on social media.
Demontre Heard, a barber at the Fade N Up shop, said at first he was confused by the request from the customer, who wishes to remain anonymous, KWTV reported.
"He called on the phone knowing that it was a diverse shop, but mostly black barbers here," Heard told the news station. "So I felt like he really didn't have a problem with coming here even though he seemed kind of scared when he first came in."
OKLAHOMA ARMY VETERAN LEAVES $2.25 MILLION ESTATE TO HABITAT FOR HUMANITY, 24 HOMES TO BE BUILT
The flag has come under increased scrutiny after the June 2015 massacre at the Emanuel AME Church in Charleston, S.C. The gunman, Dylann Roof, killed nine parishioners. After Roof was arrested, a website that was registered under his name showed him posing with the flag.
The customer explained that he wanted the flag's design as a way to pay homage to Yelawolf, his favorite rapper. The logo for the artist's record label, Slumerica, is a row of stars with four lightning bolts at the corners, but the customer explained to Heard that the Confederate Flag would be a fine substitute to the logo's more elaborate design.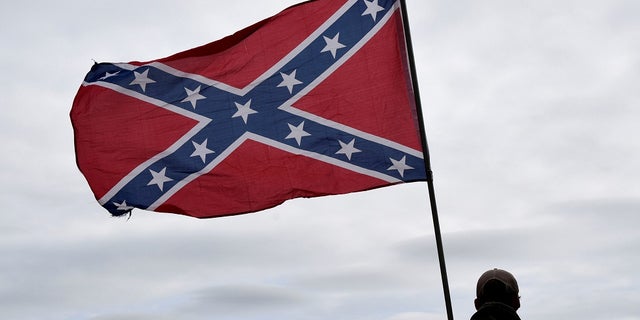 "It was just going to be too much, so he asked if I could do the Confederate flag in his head, and in the back of my head I'm like, 'what kind of stuff are you on?'"
Corey "Scissorhands" Sutter, the owner of the barbershop, said the cut was one of the most unusual requests the shop has received. Other customers have asked for "Black Power," according to Sutter.
OKLAHOMA 18-YEAR-OLD ARRESTED, ACCUSED OF PROSTITUTING TWO JUVENILES
After the cut, he decided to take a picture of the hairdo and post it on his Facebook page. The hairstyle went viral and many social media users either condemned or supported the decision.
"The thing that's really bothering me is, no matter how it may look to someone and them getting upset about it, this is what we do for a living," Sutter told KFOR. "We provide a service for this person, and that's what we're supposed to do. Yeah, we could have denied it. Yes, we could have acted a fool and talked bad to him, tried to fight him or anything like that. But, he came in, he came in respectful. He wanted it."
Heard said at the end of the day, the customer paid and was pleased with his haircut. "You have the right to your opinion," Heard said. "At the end of the day your opinion doesn't pay my bills, and I have kids to take care of."