Oil price passes $99 per barrel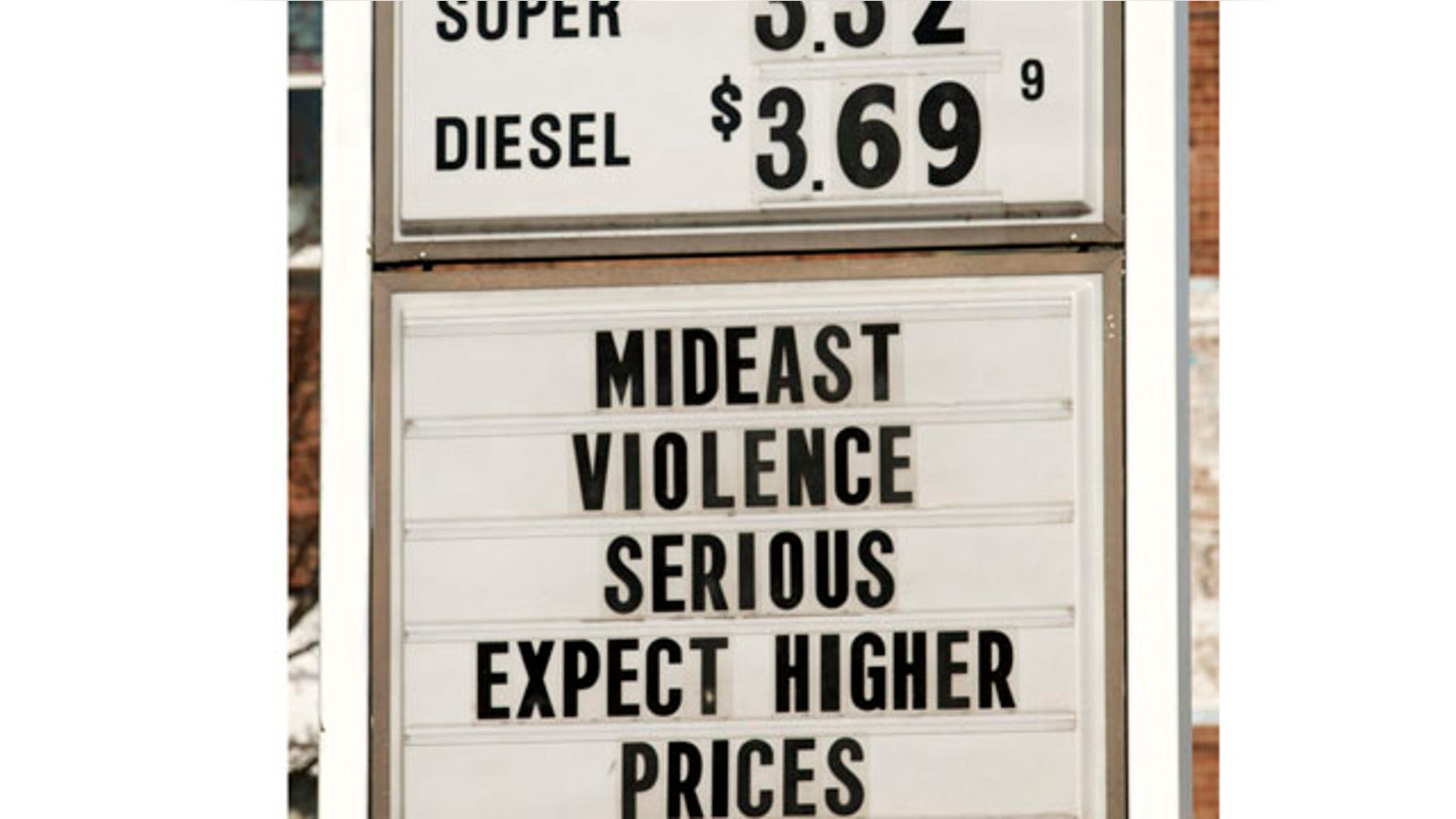 NEW YORK – Oil prices rose past $99 a barrel on Wednesday as forces loyal to Libya's Muammar al-Qaddafi clashed with protesters expanding their control over parts of the country.
The rebellion in Libya, which has the most oil reserves in Africa, follows uprisings in other North African countries that have ousted leaders in Tunisia and Egypt. About one-fifth of Libya's oil production, around 367,000 barrels per day, appears to have been shut down as companies pull workers and their families from the region. Analysts expect that amount could rise further, especially if unrest affects oil production in Saudi Arabia and Iran.
Benchmark West Texas Intermediate for April delivery rose $3.55, or 3.7 percent, at $98.97 per barrel on the New York Mercantile Exchange. It traded as high as $99.10 earlier. WTI has jumped 15 percent since Valentine's Day.
In London, Brent crude added $4.74, or 4.5 percent, at $110.52 per barrel on the ICE Futures exchange.
As protests widened in Libya, French oil giant Total said it has started to wind down its oil production in the country, which produced an average of 55,000 barrels per day last year. That follows similar moves by other oil companies working in the country.
The country's biggest oil producer, Eni, idled operations that produce 244,000 barrels of oil and gas per day. Spain's Repsol-YPF and Austrian oil company OMV also suspended operations.
The production losses will be felt mostly in Europe. Ireland relies on Libya for 23 percent of its oil imports and 22 percent of Italy's oil imports are from Libya. The U.S. imported only about 51,000 barrels per day from Libya, less than 1 percent of its total crude imports.
Italy also gets about 12 percent of its natural gas from Libya. Italy's industry minister said he would not tap strategic reserves after Eni suspended its Greenstream pipeline supply from Libya. That pipeline stretches more than 300 miles, running under the Mediterranean Sea from Libya to Sicily.
Analysts say concerns about violence in North Africa and Middle East have put a "fear premium" that's added about $10 per barrel. The rise has pushed retail gasoline prices higher in the U.S. despite ample supplies in most parts of the country.
Gasoline prices jumped 8.2 cents per gallon in the last month, and $1.28 per gallon in the last year. The national average for a gallon of regular on Wednesday added another 2.3 cents at $3.194, according to AAA, Wright Express and Oil Price Information Service.
Tom Kloza, publisher and chief oil analyst at Oil Price Information Service, said he expects gasoline prices will continue to rise in the next few months to a spring peak of between $3.25 and $3.75 per gallon.
Analyst Jim Ritterbusch with Ritterbusch and Associates doubts that the national average will climb to $4 a gallon or higher, but he says it is difficult to predict because of the rapidly changing Middle East situation.
Shares of major oil companies rose in Wednesday trading. Exxon Mobil gained $1.96, or 2.3 percent, at $87.40. ConocoPhillips added $2.39, or 3.1 percent, at $79. Chevron rose $3.54, or 3.5 percent, to $103.86. Occidental Petroleum rose $1.97 to $104.11.
In other Nymex trading in March contracts, heating oil added 10 cents at $2.9060 per gallon and gasoline gained 11 cents to $2.8538 per gallon. Natural gas fell 2 cents to $3.890 per 1,000 cubic feet.