Ohio quadruplets stick together and choose Yale University for college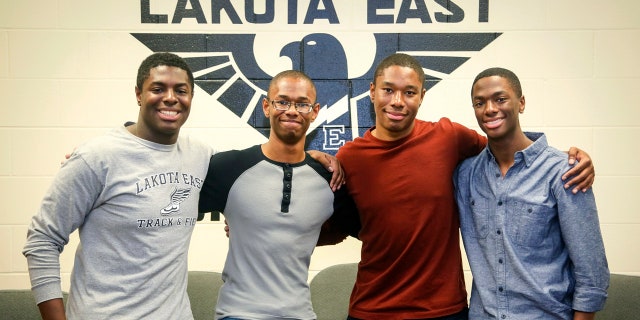 Four quadruplet brothers from a Cincinnati suburb have all decided to go to Yale after being accepted into other prestigious universities, including Harvard and Stanford.
Nick, Nigel, Zachary and Aaron Wade of Liberty Township said they chose Yale after great visits and sizable financial aid packages.
The brothers revealed their decision fashionably by removing their jackets on NBC's "Today" show and displaying navy blue shirts emblazoned with the New Haven, Conn., school's name.
Although a remarkable feat, the brothers aren't the first quadruplets to go to Yale. In 2010, Kenny, Martina, Ray and Carol Crouch all chose to go to Yale, according to the New York Times.
The school chose to admit 2,272 students from 32,900 applications for the class of 2021, according to Yale's Office of Undergraduate Admissions.
The Associated Press contributed to this report.