Officer saves choking infant: 'God put me in the right spot'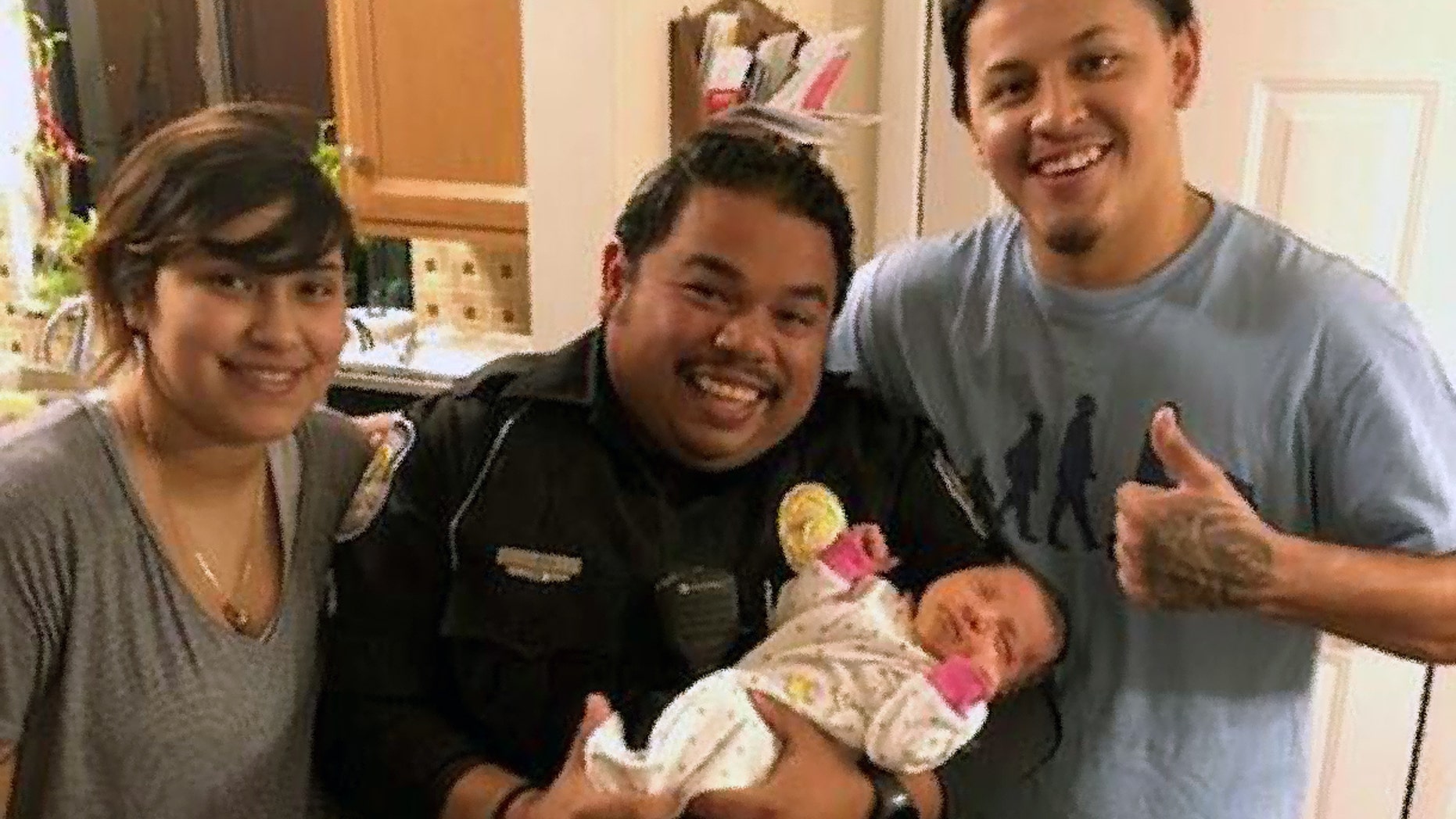 A police officer in Florida is being hailed a hero and miracle worker for his quick-thinking action that saved a newborn's life.
On the night of Nov. 15, parents Alex A. Rocha-Cerda and Stephania Quivoga panicked when their six-day-old baby girl, Alybree-Dejues Cerda, stopped breathing and her lips turned blue.
Not knowing what to do they dialed 911 and decided to drive to the hospital.
POLICE OFFICER DELIVERED BABY ON SIDE OF BUSY HIGHWAY: 'SHE SHOWED UP LIKE AN ANGEL'
When Fort Pierce Police Officer, Jorge Goz, saw the call on his cruiser's computer, he knew they wouldn't make it in time because of traffic, so he told the dispatcher to tell them to pull over.
"I wanted to go and help," Goz told CBS 12. "Time is of an essence when there's a baby not breathing or not conscious."
And at the intersection of Okeechobee and Jenkins, Goz picked up their baby's limp, unconscious body as the father sobbed.
"I got her bro," Goz assured him. "She's okay."
The field training officer gave her three to four thrusts to the back, making sure her airway was open, and then she started breathing again and cried out. He said some mucus and milk had become lodged in the baby's throat and that is what stopped her from breathing.
"She was breathing and thank God you know, Officer Goz saved her life," the baby's grandmother, Argelia Quiroga, said. "We were so thankful."
After the hospital had cleared the little girl, Goz trained the family on pediatric first aid and CPR, before heading back to work.
MAN'S SPLIT-SECOND DECISION LEADS TO LIFE-SAVING KIDNEY TRANSPLANT: 'ALL THIS IS WAS GOD'
"This incident hit very close to home for me because I have a five-year-old daughter," said Officer Goz. "If something like this ever happens in my family, I hope someone will be able to help out."
Goz, who has been nominated to receive the Fort Pierce Police Department's Lifesaving Award, said he plans to keep in touch with the family.