NJ murder case dropped after 2 men spent 24 years in prison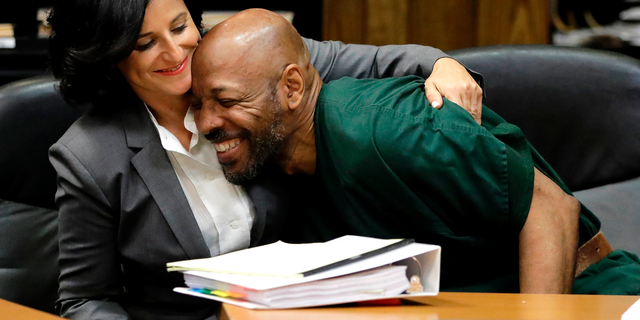 NEW YORK – Prosecutors dropped a case Friday against two men who spent 24 years behind bars in the bloody killing of a New Jersey video store clerk before DNA tests linked a key piece of evidence to another man.
Eric Kelley and Ralph Lee had been released on bail after their convictions were overturned last year. But until Friday, they were facing a potential retrial in the 1993 death of Tito Merino in Paterson.
With the case dismissed, "I'm finally free," Lee said by phone.
"I was looking forward to it one day, but I didn't think it was going to be today."
Kelley said he felt at once overwhelmed, exhausted and happy, said his lawyer, Vanessa Potkin.
Passaic County prosecutors' decision to dismiss the case came a month after an appeals court turned down their bid to overturn a ruling that granted the men new trials. The appeals court didn't declare them innocent but said they'd be allowed to present evidence against the other man, adding that the DNA findings "seriously undermined" the soundness of the guilty verdicts.
Prosecutor Camelia Valdes' office noted the appellate ruling, the years in prison that Lee and Kelley served and the difficulties of getting witnesses back on the stand in a quarter-century-old case.
"Considering the totality of the circumstances, to re-try these matters 25 years later would not be in the interests of justice," Valdes' office said in a statement.
Potkin, who works for the Innocence Project, said she hoped that the end of the case against Kelley would spur New Jersey officials to re-examine their approach to wrongful conviction claims.
"The resistance we encountered was unacceptable," she said. "You couldn't have had stronger indications of innocence here."
Merino, 22, was beaten and stabbed in a midday holdup at his uncle's video shop. Paterson's then-mayor said the killing made him sick to his stomach. Merino was a community college student who had emigrated from Peru with aspirations of becoming a doctor.
Lee, now 55, and Kelley, 53, confessed but soon recanted. With no physical evidence against them, their prosecutions hinged on their confessions and testimony from witnesses who'd been in the video store around the time of the killing.
In 2014, DNA tests showed that a baseball cap left near Merino's body was laden with DNA from a man convicted of a 1989 knifepoint holdup at a different Paterson shop. He'd been released from prison three months before the video store robbery.
There was no DNA from Kelley or Lee.
Prosecutors have said the new DNA match didn't prove Lee or Kelley innocent or outweigh the "powerful evidence" of confessions and witness accounts. Potkin and Lee's lawyer, Paul Casteleiro of Centurion Ministries, argued prosecutors were trying to paper over a bungled case.
The man whose DNA was on the hat hasn't been charged in the video store killing. Prosecutors declined to comment Friday on whether they planned to reinvestigate or pursue him.
Merino's uncle, Miguel Victoria, didn't immediately return a call Friday. He said last year that the new evidence had left Merino's relatives unsure what to think, but they hoped authorities would get to the bottom of it.
Kelley has been working at a pancake restaurant that hired him after hearing of his case, Potkin said. Lee said he's been grappling with medical problems that began in prison.
Still, dad Ralph Lee Sr. said, "This is the first the first day I've seen him smiling."