NJ ex-superintendent admits to pooping on a nearby high school's grounds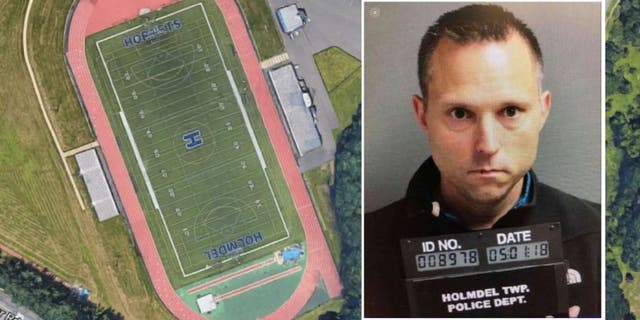 The New Jersey schools superintendent accused of pooping on a high school football field "on a daily basis" reportedly confessed to his crimes on Wednesday.
Thomas Tramaglini, 42, pleaded guilty to defecating in public, NJ.com reported. Lewdness and littering charges were dismissed.
NEW JERSEY SUPERINTENDENT DEFECATED ON HIGH SCHOOL FOOTBALL FIELD 'ON A DAILY BASIS,' COPS SAY
The former superintendent of Kenilworth schools was arrested in April after a surveillance video caught him relieving himself near Holmdel High School's football field.
Students and staff members had reported finding human feces on or near the school's field almost daily, sparking a hunt for the "mystery pooper," authorities said.
Tramaglini — in recent months, he earned the unfortunate nickname "pooper-intendent" — lived in Aberdeen, about three miles from the high school. He took a paid leave of absence after his arrest before ultimately resigning in July.
Tramaglini reportedly negotiated a separation agreement with the district, which agreed to pay him $100,000 in salary, severance and unused vacation days. His role as superintendent afforded him a $147,500 salary.
His attorney told NJ.com that Tramaglini was found to have "Runners Diarrhea," a condition that often causes distance runners to have loose bowel movements during or after running.
SCHOOL 'POOPERINTENDENT' TO RECEIVE $100G FROM DISTRICT, REPORTS SAY
Additionally, Tramaglini's attorney contended, his client was not doing the deed daily. He maintained there was "no evidence he was ever a serial offender."
"We were ready to go to trial on some of the allegations about certain dates with GPS evidence from his Garmin running watch. That story needs to be told," Tramaglini's attorney said. "He's been through hell and back. He deserves a story that tells the accurate picture."