New York 'hot dog hooker' ready to get back to work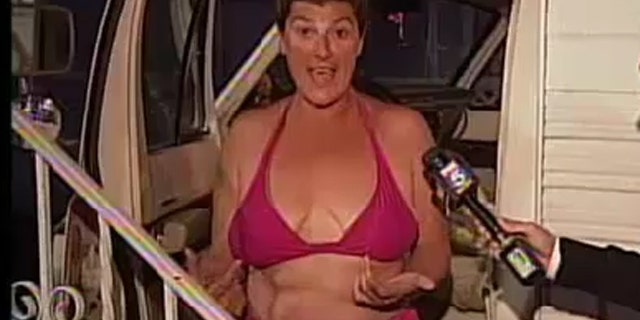 The Long Island hot dog vender, who says she maintains a stripping business on the side, pleaded guilty to one count of prostitution, and plans to be back to work at her food stand Wednesday instead of in a courtroom.
"I'll be out there in my bikini top selling my hot dogs," Catherine Scalia said after she sauntered out of a Nassau County Jail, flashing a few obscene gestures to reporters.
Scalia, 45, got into hot water after authorities say she agreed to pleasure an undercover police officer for $50 after he purchased a hot dog, the New York Post reported. Despite her plea, Scalia denies allegations that she's a prostitute.
"Why should I get arrested for prostitution if I'm going to show my cleavage in a bikini and sell hot dogs," the mother of four told MyFoxNy.com. "I'm not pleading guilty to prostitution, I'm pleading guilty to being a stripper."
Authorities say Scalia sold hot dogs out of a trailer and offered sex acts to customers on the side at her East Rockaway home.
"I gave my business card to an undercover officer. He called me up and said, 'You want to come to my house?' He came to mine," she said. "I start doing my dance. The next thing you know, the cuffs were on me, I was charged with prostitution."
Scalia was arrested on prostitution charges eight years ago. Still, she said she plans to keep selling hot dogs -- and stripping.
"Come to the hot dog truck tomorrow, I'll have a bikini on, a nice hot pink one," she said. "And we'll take pictures in the hot dog truck."
Scalia's next court date is June 18, 2012. The judge told her if she fails to undergo a psychiatric evaluation before then she could face up to 60 days behind bars.
Please click here for more from MyFoxNy.com