Manhunt for suspect in Texas police shooting intensifies
Authorities in Texas were hunting for a gunman Monday accused of killing a detective after shooting him twice in the face while he was writing out a traffic ticket to a driver.
San Antonio police Chief William McManus identified the fallen officer as Benjamin Marconi, 50, a 20-year veteran of the force. Marconi was shot to death in his squad car late Sunday morning outside police headquarters, police said.
According to Fox San Antonio, the U.S. Marshals service took a "person of interest" into custody at around 9:20 p.m. local time but no further information was given on the person.
However, police said early Monday that the search for a male suspect was still underway and that no arrest had been made. McManus said he doesn't believe the suspect has any relationship to the original driver who was pulled over, and no motive has been identified.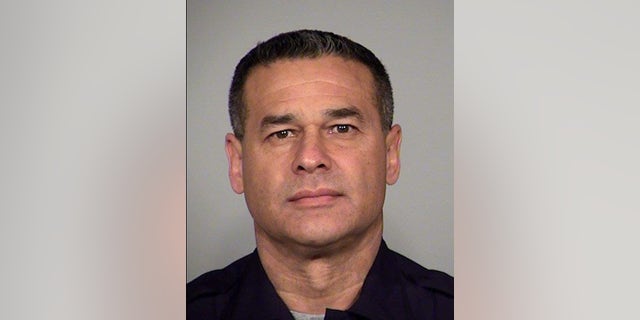 "This is everyone's worst nightmare. You never want to see anything like this happen," said McManus, who then ticked off several other cities that recently had police officers targeted and killed. "Unfortunately, like Dallas, like Baton Rouge, it's happened here now."
Police released a still image of the suspected gunman's vehicle speeding away from police headquarters and another image of a person sought "in connection with the shooting." Authorities were still looking through video footage to help identify the gunman. A reward of up to $10,000 was offered for information leading to the arrest of the person responsible for the detective's murder.
"We consider this suspect to be extremely dangerous and a clear threat to law enforcement officers and the public," said McManus, who added that after the shooting officers had been instructed to not make traffic stops alone.
The chief said investigators are looking into all leads and motives, including whether it could be related to an officer-involved shooting earlier Sunday in the city. In that incident, McManus said, police fatally shot a man who pointed a gun at officers outside an apartment following a seven-hour standoff.
"Hopefully, we'll solve this one real quick," McManus said.
Some streets downtown were blocked off with police tape as officials investigated the slaying.
In St. Louis, a police sergeant was hospitalized in critical condition but expected to survive after being shot twice in the face Sunday night in what the police chief called an "ambush." Police reported early Monday that the suspect was later killed in a shootout with police.
Police Chief Sam Dotson said the 46-year-old officer was shot twice in the face.
"Fortunately for the blessing of God the officer's going to survive," Dotson said during a brief news conference after the shooting. He declined to name the officer but said he is a married father of three who has been with the department for about 20 years.
The officer was not involved in a call or a traffic stop but was sitting in traffic about 7:30 p.m. Sunday when another car pulled up alongside his marked police vehicle. The officer told police he heard at least two shots.
"This officer was driving down the road and was ambushed by an individual who pointed a gun at him from inside of his car and shot out the police officer's window," Dotson said.
Police reported that officers later pulled up behind the suspect's vehicle and that he fled on foot. Police said the man fired shots at the officers, who returned fire, killing him. No officers were shot.
Two other police officers were also shot Sunday night, but it wasn't clear whether the incidents were targeted attacks.
An officer with the Gladstone, Missouri, police department near Kansas City was shot, along with a suspect. A Sanibel, Florida, officer was shot in the shoulder during a traffic stop Sunday night, and was treated for his injuries and released.
"It's always difficult, especially in this this day and age, where police are being targeted across the country," McManus said.
Texas Gov. Greg Abbott called the San Antonio slaying a "horrific act of violence." Abbott said in a statement that "attacks against law enforcement officers will not be tolerated in Texas and must be met with swift justice."
San Antonio Mayor Ivy Taylor extended condolences to the family of the slain officer and the entire police force.
The shootings came less than five months after a gunman killed five officers in Dallas who were working a protest about the fatal police shootings of black men in Minnesota and Louisiana. It was the deadliest day for American law enforcement since Sept. 11, 2001.
Ten days after the Dallas attack, a man wearing a ski mask and armed with two rifles and a pistol killed three officers near a gas station and convenience store in Baton Rouge, Louisiana. And earlier this month, two Des Moines, Iowa-area police officers were fatally shot in separate ambush-style attacks while sitting in their patrol cars.
The Associated Press contributed to this report.