LSU reopens campus after evacuation due to bomb threat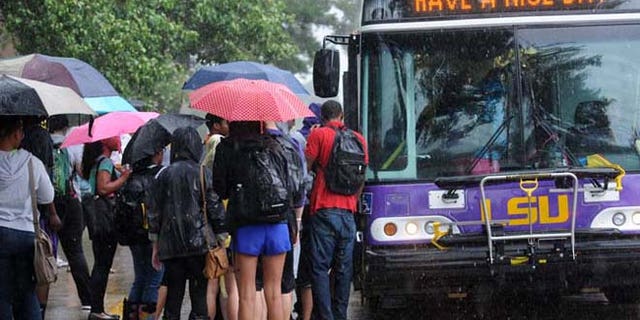 NEWYou can now listen to Fox News articles!
BATON ROUGE, La. – Louisiana State University said late Monday it has reopened its Baton Rouge campus and classes will resume Tuesday, a day after a bomb threat sparked a campus-wide evacuation.
"All campus buildings have been returned to normal operations and the campus is now open for students, faculty and staff," LSU officials said in an emailed statement. "All classes and events scheduled for Tuesday, Sept. 18, will be held as planned, and university employees and students should plan to return to their normal schedules on Tuesday.
The announcement came hours after university officials began allowing the thousands of students who live on campus to start returning to their dormitories after bomb-sniffing dogs and police methodically swept residential halls Monday.
LSU spokesman Herb Vincent said earlier Monday night that officials were hoping to reopen the campus by Monday night, but they weren't certain if a building-by-building sweep would be finished before Tuesday.
Evangeline Hall, a residential building on campus, was reopened first and officials began directing some of the 6,000 on-campus residents into the building as the investigation continued, Vincent said. He said residential halls were searched first and buses to and from the campus were running normally.
Thousands of students, professors and workers were told to leave campus Monday morning after a threat was phoned into 911 about 10:32 a.m., university spokeswoman Kristine Calongne said. But the threat did not indicate a specific part of campus, so police and bomb-sniffing dogs began meticulously sweeping each of the 250 buildings on campus.
LSU Police Capt. Corey Lalonde said no explosives were found.
By mid-afternoon, the LSU campus was largely deserted and roads were closed, though some people and cars were still moving around. Police officers with dogs combed through buildings, including the computer services center.
State police bomb technicians were on the scene, said Louisiana State Police Capt. Doug Cain. He said authorities were talking to their counterparts in Texas, North Dakota and Ohio, where similar threats were received Friday, but officials say they're not sure if the phone call made Monday was connected to those threats. Police found no explosives on those campuses.
"It's kind of been an epidemic. This has been the fourth in a week. But it's better to be safe than sorry," said Joseph Vera, a communications disorders graduate student.
Vera and a fellow graduate student were working in a language clinic with seven children near the edge of campus when they received the text message about the bomb threat. The pair walked the children across the street to an off-campus restaurant and they called the children's parents.
The university sent a follow-up message to students at 1:36 p.m. telling them not to return.
Col. Mike Edmonson, Louisiana State Police superintendent, said despite some initial traffic congestion, the campus was evacuated in under an hour.
The university put out a statement on its website announcing the evacuation an hour after the phone call was received, then distributed the information through text messages, emails and social media.
There are 30,000 students, professors and university employees located on the Baton Rouge campus, but it was not clear how many were there at the time of the threat.