Late sister of 'Mockingbird' author leaves books, personal items to fame write in will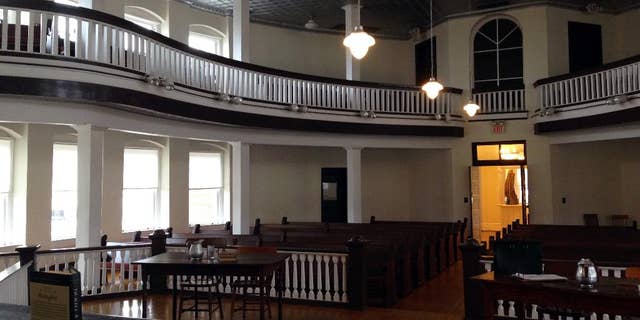 MONROEVILLE, Ala. – The late sister of "To Kill A Mockingbird" author Harper Lee, Alabama attorney and church leader Alice Lee, is leaving books and other personal items to the famed writer.
Alice Lee's will, filed in Monroe County Probate Court and obtained by The Associated Press, says Harper Lee is to dispose of the belongings "as she may see it fit."
"I suggest that she choose those of my books she may desire to keep, then distribute the others among members of the family or to libraries or such institutions," said the will, signed in 2009.
The will notes that Alice Lee had a first edition version of her sister's landmark novel that is "extremely valuable." It says she also had a collection of translations of "To Kill A Mockingbird" that may be valuable.
A longtime friend and pastor of Alice Lee, the Rev. Thomas Lane Butts, said it was fitting that her will prominently mentioned books.
"She loved books. She was surrounded by books in her home. She didn't cook, and she had so many she even kept books in her oven," said Butts.
Yet Harper Lee, who at 88 lives in an assisted living center in Monroeville and is in poor health, likely isn't even aware of the bequest, Butts said.
"I imagine it will fall to the family to take care of the items," he said.
The 103-year-old attorney died in November in her hometown of Monroeville, Alabama. Her novelist sister was listed first among about two dozen survivors mentioned in her obituary.
Alice Lee left cash bequests totaling $45,000 to relatives and organizations affiliated with the United Methodist Church, in which she was an active leader for decades. The will divides the remainder of the estate among relatives, but no total value is given.
Lee gave $5,000 each to First United Methodist Church in Monroeville, where she was an active member and leader; the Methodist-affiliated Huntington College in Montgomery, which she attended; and the United Methodist Children's Home in Selma, where she served as a director.
Butts said the will was evidence of Lee's devotion to the Methodist church.
"Miss Alice never married, and she was sort of married to the church," he said.
The will also demonstrated the support that Alice Lee quietly provided to help students for years, said Butts.
"She's helped a lot of young people and no one even knows about it," he said. "She always has been very enthusiastic about the education of young people, particularly at Methodist colleges."
The Lee sisters were in the news last year after the publication of "The Mockingbird Next Door: Life with Harper Lee," a book by former Chicago Tribune reporter Marja Mills. The writer moved next door to the Lee sisters in 2004 and wrote about her experiences with them.
Alice Lee, who practiced law until a few years ago, was known for protecting her intensely private sister, who stopped giving interviews in the mid-1960s after the success of her only published novel, which won the Pulitzer Prize in 1961.