Kentucky man pleads not guilty to murder in grocery killings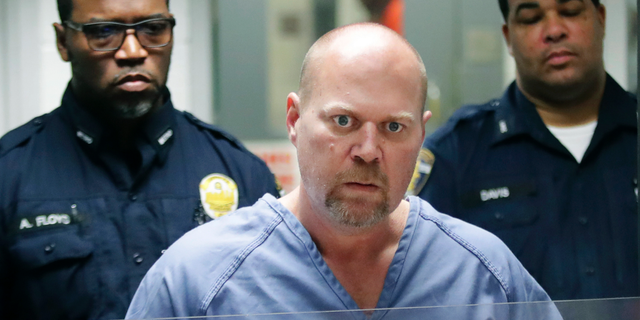 LOUISVILLE, Ky. – A white man charged with killing two black shoppers at a Kentucky grocery store pleaded not guilty on Friday the victims' relatives looked on.
Gregory Bush was indicted this week on two counts of murder, wanton endangerment and one count of attempted murder. He denied all charges during the brief court hearing Friday morning. Several police officers surrounded Bush in the courtroom, and he did not speak.
Federal officials are investigating whether to pursue a hate-crimes prosecution. Bush, 51, stopped at a historically black church nearby before heading with his handgun to the busy Kroger store in suburban Louisville.
His bond was kept at $5 million cash on Friday. The families of victims Maurice Stallard, 69, and Vicki Lee Jones, 67, declined to speak to reporters after the hearing.
The brief, two-minute appearance was tense. Someone cursed at Bush when he entered the courtroom, wearing an orange jumpsuit and surrounded by a half-dozen officers.
Bush's public defender, Angela Elleman, expressed condolences to the victims' families and said the "community has suffered a great tragedy and loss."
"It's particularly in times of loss and tragedy that our constitution and our laws can be particularly tested, so Mr. Bush of course has rights to due process and a fair trial."
Prosecutors said this week that they had not made a decision on seeking the death penalty.
The attempted murder charge is based on a shootout Bush had in the parking lot with an armed shopper, Dominiic Rozier.
Rozier told media outlets this week that he and his wife saw Jones get shot in the parking lot, and he drew his gun after Bush pointed a gun at him. The two exchanged gunfire but neither were hit, and Bush fled the parking lot.
"I was doing it to protect me and my wife," Rozier said.