Iraq War Vet Fights for Return of Children Taken by Estranged Wife to Japan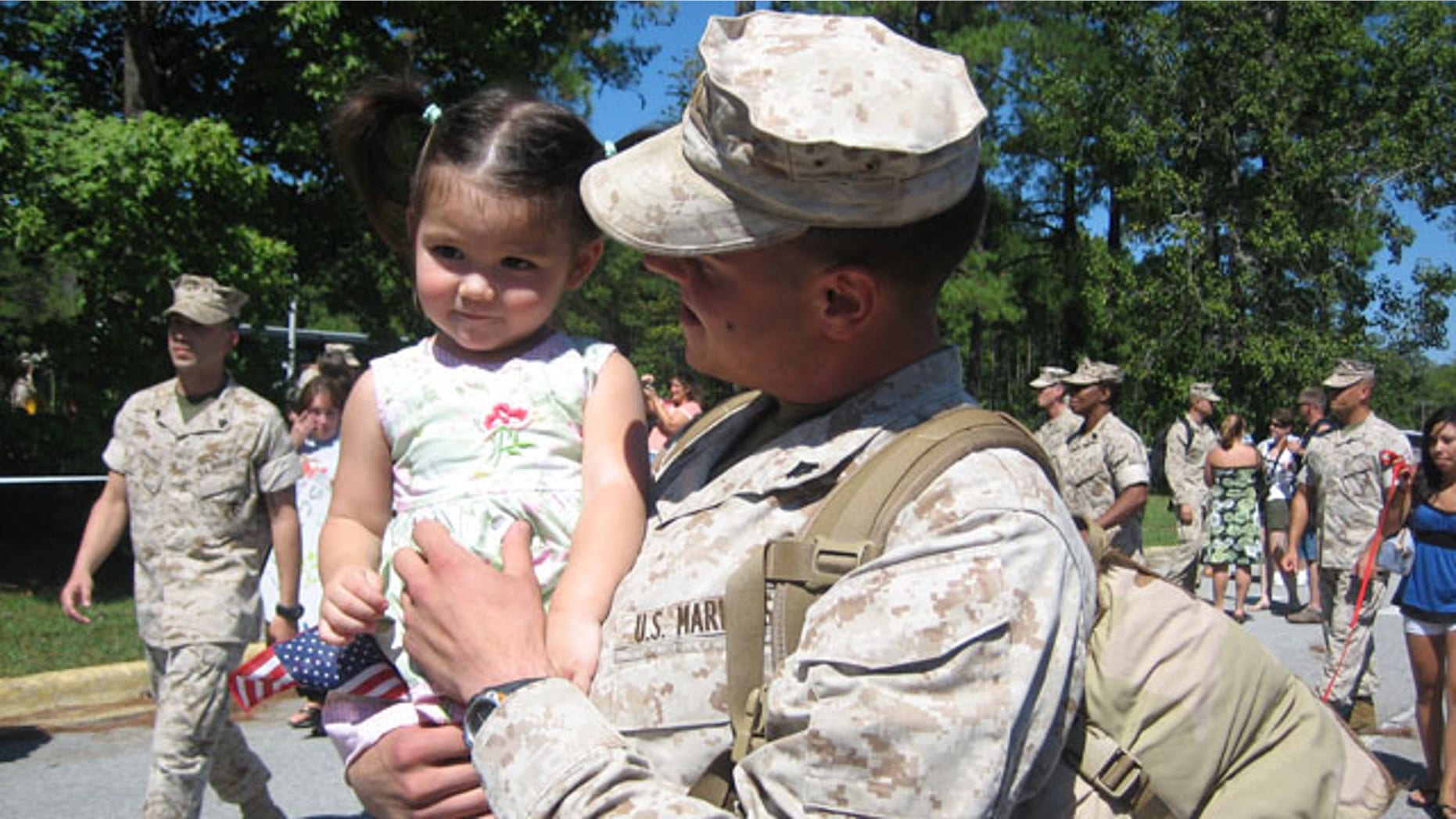 When veteran Michael Elias was serving in Iraq in 2008, he longed for the day when he could return home to his wife and two children in New Jersey.

When that day finally came, he was not ready for the nightmare he has endured for the past three years.
His marriage soon fell apart and his wife, Mayumi Nakamura, did the unthinkable when she violated a Bergen County court order and fled in December 2008 with the couple's 2-year-old son, Michael, and 4-year-old daughter, Jade, back to her native Japan. In Japan, a lack of child-custody laws means Elias, a former sergeant of the United States Marine Corps, has basically lost all rights to see his children or have them return stateside.

The former soldier has been fighting to get back his children ever since, reaching out to local congressmen and testifying on Capitol Hill to no avail.

"It's not that they won't do anything. They can't do anything," Elias said. "They've had some dialogue, but it's like beating a dead horse. Every time, they [Japan] say they are willing to co-operate, but it's been three years. How much longer are they going to be willing?"

Japan is the only nation in the Group of Seven not to sign the Hague Convention treaty, which focuses on the civil aspects of international child abduction.

"Abducted children are at risk of serious emotional and psychological problems. The U.S. government has a duty to protect these children and fight for their parents who have a right and want to meet their responsibilities of raising their own children," said Rep. Chris Smith, R-N.J., who traveled with Elias' family to Japan this past February in an attempt to see the children.
Smith also has held hearings on the matter with the Foreign Affairs Committee, to which Elias offered his testimony.

"Japan has historically been complicit in these abductions, offering protection without investigation," he said.

Elias' relationship with Nakamura began to dissolve almost immediately upon his return from Iraq in September 2008. They eventually split up, and he allowed his wife to stay in the apartment they shared in his mother's home in Rutherford, N.J., for the sake of the children.

Elias had tried to avoid heading to court over custody issues until Nakamura had a legal document drafted stating that she and her two children could, "visit Japan without any restrictions under any circumstances," and if he didn't comply he would have to, "surrender any custody rights of Jade and Michael, to Mayumi." Nakamura also wanted Elias to agree to the terms that she could relocate to Japan with the children at any time.

"She created this travel residency document saying that if I don't agree or allow her to do as she pleases, that she could take the kids and leave," he said.

"Right away, that was a red flag for me. I hired a lawyer, and we went to court."
The judge ordered that she surrender her passport and stay within state lines. He also awarded shared custody between the couple.

Nakamura worked at the Japanese Consulate in New York City issuing visas and passports, but was fired after she reportedly was caught trying to forge new passports for the children and herself.

Elias claims that she then used her connections at the Chicago Consulate to have replacement passports made. She then left the country with her boyfriend and little Michael and Jade from O'Hare Airport on a flight to Tokyo on Dec. 6, 2008.

Elias remembers that day clearly.

"We were supposed to take the kids to a holiday train ride that day and she wanted the kids to stay with her from the Wednesday before. She told me her sister was in town from Japan and she wanted the kids to spend time with them. I told her I had no problem with that," he said.

"Friday night I called her to make sure we were set for the next day, but she didn't answer. I didn't make it an issue. I wanted her to spend time with the kids," he said.
When Elias and his parents went to the train ride the next morning, Nakamura and the kids did not show.

"I remember saying to my mother, 'Something is wrong. Something is up,'" he said.
Elias and his family then went to Nakamura's home and discovered the apartment was empty. Their clothes were left behind in trash bags placed on the curb.

Shortly after Nakamura arrived in Japan with the children, she contacted Elias and told him that she had decided to raise the kids in Japan. He tried to explain to his wife that she had effectively kidnapped the children and she boldly replied, "it's not kidnapping, my country will protect me."
The exact whereabouts of Nakamura are unknown. She could not be reached for comment.

The judge back in Bergen County awarded Elias full custody of his two children stateside and ordered their immediate return stateside, unaware that Japan was not a signatory of the Hague Convention treaty.

Since Nakamura fled, Elias had been pleading with her to comply with the judge's order and return with the children up until Jan. 5, 2010, when she allowed him to see the children via Skype for his daughter Jade's 4th birthday. During the video call, Jade looked at her mother and said something very softly. When Elias asked Nakamura what his daughter had said, she replied, "she wants to be with you." The call was then disconnected immediately and Elias hasn't seen his daughter's face since.

State Department statistics show that there are 321 documented cases of abduction from the U.S. to Japan and, to date, none of the children involved has been returned by the Japanese government.

This summer, Japan finally agreed to sign the Hague Convention of International Child Abduction, but it will only apply to future incidents and not existing abductions, like Elias' case.
There may, however, be hope for a reunion.

"Michael's case is the gold standard. It's the strongest. The Japanese Consulate issued passports against a standing U.S. court order. There's definitely issues of complicity that have to be addressed," his attorney, Patricia Apy, said.

"This is a man who has done everything asked of him for his country. We need to get this done for him."