ICE files detainer against man accused of shooting Florida officer in head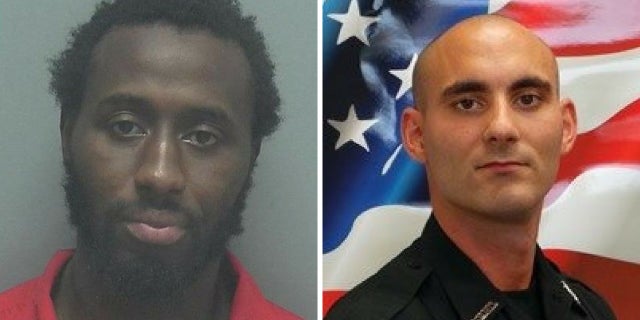 NEWYou can now listen to Fox News articles!
The Haitian national accused of shooting a Florida cop in the head Saturday has had an immigration detainer filed against him, officials said Wednesday, ending nearly a decade during which authorities arrested Wisner Desmaret numerous times but didn't inform immigration officials about him.
The U.S. Immigration and Customs Enforcement Agency told Fox News the agency filed a detainer against Desmaret on Sunday, the day after he allegedly shot Fort Myers Officer Adam Jobbers-Miller, 29. Fox 4 Now reported a man was allegedly assaulting a group of males at a Fort Myers gas station before officers arrived, at which point Desmaret allegedly shot at officers while they tried to take him into custody. Jobbers-Miller was transported to Lee Memorial Hospital where he was reported to be in "critical but stable condition."
FBI JOINS HUNT FOR UNIVERSITY OF IOWA STUDENT AMID NEW FEARS SOMETHING HAPPENED 'AGAINST HER WILL'
ICE spokesman Bryan D. Cox told Fox News the agency couldn't provide more information about Desmaret because he was not in ICE custody -- something that would only occur once his current case is adjudicated and he serves any sentence imposed. Desmaret faces at least eight charges, including attempted murder of a law enforcement officer.
"Should he enter ICE custody at that time we would be able to provide you with case-specific details," Cox said in an emailed statement.
After Desmaret was arrested in connection with a burglary in 2010 an "ICE hold" was requested on him. But the Florida state's attorney's office "decided not to prosecute the case for what they said was insufficient evidence," Fort Myers News-Press reported. Desmaret had been placed on an ICE hold in 2008 as well, NBC-2 reported.
Wink News reported Desmaret, whose age wasn't able to be verified, had been arrested several times in Lee County and was on medication for unspecified mental health issues.
Desmaret was at the Lee Memorial Hospital recovering from a "non-life threatening injury" after the incident Saturday, police said.
Desmaret's father, John Demaret (who does not spell his name with an "s"), resides in Sarasota and told Wink News his son came to the U.S. legally.
ROOKIE NEW JERSEY COP SAVES MAN FROM ONCOMING COMMUTER TRAIN, DRAMATIC VIDEO SHOWS
"He's not a citizen, he's not a citizen. But he came legally. He had a visa, he came legally," John Demaret said.
Attorney Michael Raheb told Wink News it was possible Desmaret "may have overstayed his visa," thus necessitating the ICE hold. "You'll find a majority of people that are in this country often times came here lawfully and often overstayed or their visa expired."
A GoFundMe has been set up Jobbers-Miller and his family with medical funds. As of Wednesday morning, more than $40,000 has been raised.