'I didn't expect this': Homeowners cope with damage after deadly storms strike Southeast
The severe storms that spawned tornadoes and killed at least five people across the Southeast Monday triggered more damage than many home and business owners were expecting, and starting a recovery process that could drag on for years.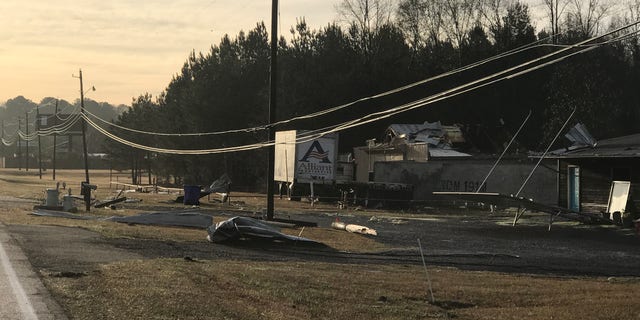 "Didn't expect to see what I saw. Sure I expected something to be torn up but I didn't expect this," Billy Miller, whose barn in Mt. Olive, Miss., was leveled by the storms, told Fox News on Tuesday.
"It's a slow process. It's gonna take a year or two years to get done. I'm just glad no one was hurt, that's it," Miller said.
The state saw at least two confirmed tornadoes, according to
the National Weather Service, which reported that the final numbers could still change.
FOX NEWS SEVERE WEATHER CENTER
Four people were killed Monday when a tree fell on their mobile home in Rehobeth, Alabama, Dothan Houston County Emergency Management Agency spokeswoman Kris Ware said.
Ware added that most of the damage was in Rehobeth as winds damaged carports and other buildings, according to AL.com.
The National Weather Service had issued a tornado warning for Houston County in the southern part of the state Monday. Local media reported that emergency officials advised residents to stay in the homes and assess damage later in the morning.
SOUTH BRACING FOR MORE SEVERE STORMS, RAIN
Alabama Gov. Robert Bentley said in a statement on social media that the Houston County sheriff had told him about the deaths and he offered "prayers for those impacted."
A man was found dead outside his Florida home in what authorities called an accidental drowning.
The Walton County Sheriff's Office identified the man as 70-year-old William Patrick Corley. Authorities said Corley was found with his body floating face down and his car partially submerged in water.
Damaged buildings and a downed transformer appeared Tuesday along U.S. Highway 49 in Mendenhall, Miss., southeast of Jackson, just some of the aftermath across much of the state.
A row of chicken houses in Mount Olive, Miss. were severely damaged by the storm front, killing many of the animals inside, the owner of the farm told Fox News.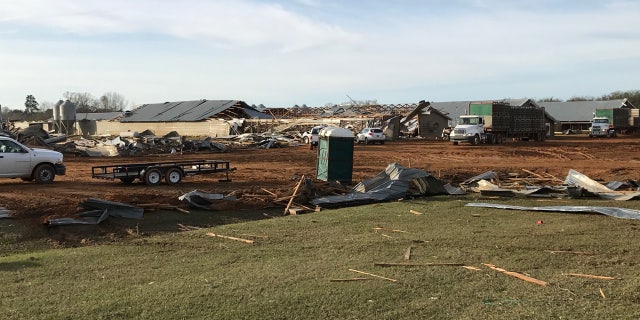 State emergency officials reported no injuries or deaths in Louisiana and Mississippi, but a trip to Wal-Mart was memorable for some shoppers in Marksville, Louisiana, as severe weather blew out skylights in the store, sending water and glass cascading onto shoppers.
Marksville Fire Chief Jerry Bordelon said a fireworks stand in the Wal-Mart parking lot was tossed 30 or 40 yards and mangled. The storm also knocked over 18-wheel truck trailers and punched holes in the Wal-Mart's roof. The fire department ordered shoppers to leave the store, but some didn't want to leave even as managers closed it.
"Believe it or not, we had some people in there who were still trying to shop," Bordelon said.
Storms ripped through central Mississippi near Mendenhall and Mount Olive. Those storms were determined to produce tornadoes by the National Weather Service. The storms damaged farm buildings and homes. Other possible tornadoes will be surveyed later.
Tens of thousands lost power in Louisiana and Mississippi at the height of the storm, according to utilities.
Freddie Zeigler, a meteorologist in the Weather Service's New Orleans office, said heavy winds were preceding the squall line, possibly contributing to power outages.
It was the second episode of heavy rain within days for some areas. An area stretching from Biloxi, Mississippi, through Alabama and across Macon and Augusta, Georgia received more than 4 inches of rain Monday, according to radar estimates. Parts of southern Mississippi and southwest Alabama have received more than 8 inches of rain since Saturday. Though rivers along the Gulf Coast were rising rapidly Monday, only minor flooding was predicted.
Fox News Multimedia Reporter Willie James Inman in Mississippi and The Associated Press contributed to this report.