A winter storm spreading a spreading a swath of snow and ice across the central U.S. will continue to impact travel through Saturday night before reaching the Northeast on...
Yet another winter storm will take aim at the Northeast and Midwest next week with widespread ice and flooding concerns.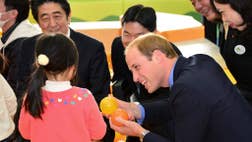 Britain's Prince William is spending the latter half of his four-day stay in Japan, starting Saturday, in the country's tsunami-ravaged northeast, a visit certain to draw...