Autumn officially starts at 10:29 p.m. EDT on Monday, but it will not feel like autumn in some parts of the U.S.
Heavy, gusty thunderstorms rumbled across the Upper Midwest on Saturday and caused disruptions to at least three college football games.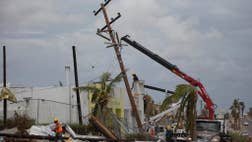 Tropical Storm Polo churned south of the Baja California Peninsula on Saturday, whipping up waves and swirling more rain onto residents still recovering from Hurricane Odile.