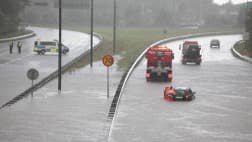 Heavy rains and flash floods have snarled road and rail traffic in Sweden and Denmark, with divers called to rescue people in submerged vehicles.
Much to the dismay of those with holiday plans, the surge of higher humidity into the Northeast is also opening the door for downpours to return.
When the right mix of heat and bacteria clashes with other natural and man-made factors, hazardous and unsightly conditions can arise in water areas across the country.