The first blizzard of 2015 for the eastern United States slammed areas from Long Island, New York, to Bangor, Maine, Monday into Tuesday.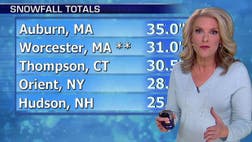 The blizzard of 2015 began to loosen its grip on New England late Tuesday, after dumping more than two feet of snow in parts of the region and flooding coastal areas.
As it became obvious on Saturday that a major blizzard was going to hit the Northeast, the track and size of the storm became critical as to which areas would be hit the...