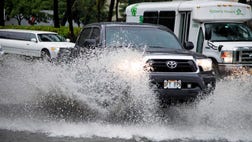 Hawaii residents started to relax Sunday after days of keeping a cautious eye on Hurricane Ana, which was downgraded by late afternoon into a tropical storm.
Heavy rains brought by the remnants of Tropical Storm Trudy have caused mudslides and flooding in southern Mexico that left at least six people dead.
Hurricane Gonzalo struck a glancing blow to Newfoundland before racing out into the North Atlantic Sunday after earlier battering Bermuda without causing any deaths or serious...