Historic fail? Greatest Americans missing from proposed curriculum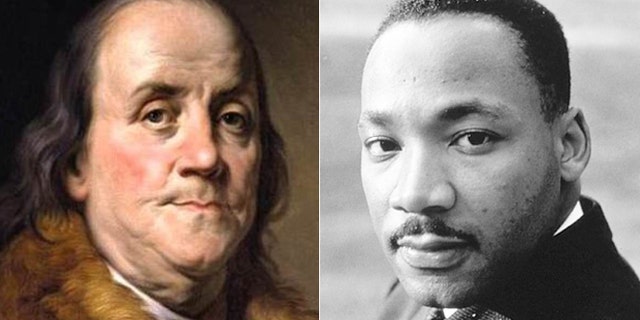 New history curriculum standards proposed for top high school students leave out such American icons as Benjamin Franklin and Martin Luther King, Jr., paint colonists as bigots and gloss over the Greatest Generation's fight to save the world from Nazi Germany, according to conservative education activists who want the framework delayed — and perhaps scrapped altogether.
An open letter circulated by conservative education activists is calling on The College Board to delay implementing new Advanced Placement U.S. History guidelines, saying a "rising tide of opposition" believes the curriculum will take the nation's classrooms in a bad direction.
The Aug. 4 letter, which is addressed to David Coleman, president/CEO of the New York-based nonprofit, claims the new 98-page curriculum is a "dramatic departure" from the five-page outline previously used by teachers and students and offers a consistently negative view of Americans as oppressors and exploiters.
"The framework ignores the rise of democratic institutions such as the House of Burgesses and New England town meetings," the letter reads. "It also omits the colonists' growing commitment to religious freedom and the emergence of a pluralistic society that lacked an entrenched aristocracy."
What's missing from the curriculum, according to a former public school teacher and author of two Advanced Placement prep guides, is mention of John Winthrop and his "city upon a hill" sermon as one of the key early instances of American exceptionalism and references to Roger Williams and the birth of religious toleration.
[pullquote]
"And you're not going to find Thomas Jefferson and the House of Burgesses and the cradle of democracy either," said Larry Krieger, who retired in 2005 after more than three decades in the classroom. "And finally, you're not going to find Benjamin Franklin and the birth of American entrepreneurialism."
Instead, students exposed to the curriculum — roughly 500,000 annually nationwide, many of whom will take the class as sophomores and juniors — will find a narrative laden with tyranny and subjugation.
"What you're going to find is our nation's founders portrayed as bigots who developed a belief in white superiority that was, in turn, derived from a strong belief in British racial and cultural superiority," Krieger told FoxNews.com.
Krieger, who specialized in the Advanced Placement U.S. history course during his years as a teacher, most recently in New Jersey, participated in a conference call Monday with other activists seeking to delay implementation of the new curriculum for at least one year.
Jane Robbins, an attorney with the American Principles Project in Washington, also took part in the call. She said ongoing discussions are happening with educational officials in at least seven states to delay the curriculum or block it altogether.
"There are conversations going on with members of several of the state boards," Robbins said, including Texas, Colorado and North Carolina.
Texas State Board of Education Member Ken Mercer, R-San Antonio, reportedly asked the board last month to delay the curriculum while state officials determine whether it violates a 2013 law banning the reaching of Common Core standards, a national initiative adopted by 45 states detailing what students from kindergarten through 12th grade should learn upon graduation of each grade level.
Conversations with critics like Krieger and Mercer are ongoing, as The College Board tries to "find solutions" regarding the controversial curriculum, a spokesperson for the organization told FoxNews.com.
"College Board leaders continue to meet with individuals who have concerns about the redesign to listen, solicit feedback and find solutions," a spokesperson wrote in an email Thursday.
Robbins, meanwhile, said her biggest issue with the curriculum is how it portrays Americans as a thoroughly pugnacious bunch.
"It presents American history as one long story of groups in conflict," she told FoxNews.com. "It does not focus on individuals at all. The idea seems to be that the only force in history worth considering is the group identity — and all of these groups are in constant conflict according to this particular narrative."
Robbins continued: "There's no understanding of what makes this country great."
Christy Armbruster, of Elko, Nev., detailed to the Elko Daily Free Press why she thinks the framework should be opposed, saying it curtailed its summary of World War II far too short.
"There is no mention of Hitler, the Holocaust, D-Day or other historic battles," Armbruster wrote the newspaper. "Neither is there any mention of the heroism and sacrifice made by so many American soldiers, including my grandfather!"