Hawaii volcano emitting dangerous levels of sulfur dioxide, residents complain of ashfall
The vents that have formed on Hawaii's Big Island from one of the world's most active volcanoes are releasing dangerous levels of gases that pose a danger to anyone nearby, officials warned as a new fissure in the area opened up Tuesday.
The Hawaii County Civil Defense said the volcanic fissures in the southeast area of Lanipuna Gardens neighborhood are issuing high levels of sulfur dioxide gas, which are causing the air quality to be to be placed under "red" conditions.
"Condition RED means immediate danger to health so take action to limit further exposure. Severe conditions may exist such as choking and inability to breathe," the agency said. "This is a serious situation that affects the entire exposed population."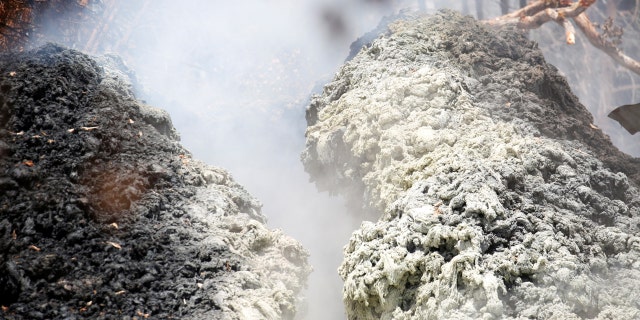 High levels of sulfur dioxide gas are "especially dangerous" for the elderly, children and people with respiratory problems, according to the Hawaii Department of Health.
HAWAII VOLCANO: WHAT'S THE WORST-CASE SCENARIO FOR KILAUEA?
Sulfur dioxide can be carried with wind, or cover an area with no wind, according to the agency. The county said the warnings over the gas also apply to the surrounding farm areas, and those in the area should leave in addition to seeking medical attention if severely affected.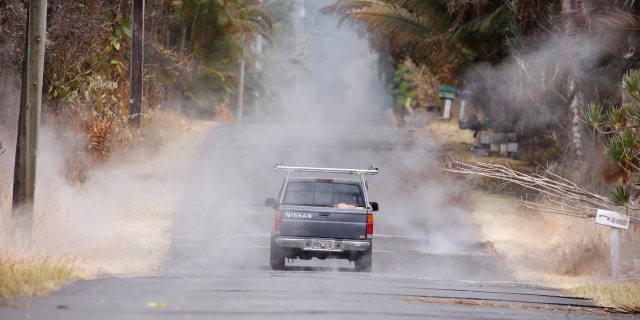 "Condition RED means immediate danger to health, so take action to limit further exposure," Hawaii County Mayor Harry Kim said on Twitter.
In addition to the gas emissions coming from volcanic vents in the area, residents on the Big Island are also experiencing allergy-like symptoms from ashfall generated by Kilauea, which began erupting on May 3.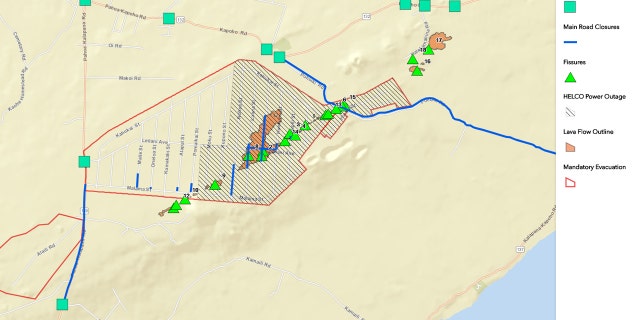 As of Tuesday, 20 volcanic fissures spewing gas and bright orange lava have opened up in the area. The latest is located in Lanipuna Gardens northeast from fissure number 19, but no homes or roads are threatened "at this time," according to the Hawaii County Civil Defense Agency.
LAVA FROM HAWAII VOLCANO NEARS AN EVACUATION ROUTE
The National Weather Service's Honolulu Office warned residents on Monday that a rockslide at Kilauea's summit crater created a plume of smoke and ash, which affected the Kau neighborhood.
Several residents in the area told Hawaii News Now they were suffering from headaches, sore throats, and watery eyes due to the ash.
"I do have neighbors and friends and family and it has created more problems for them," Pahala resident Jessie Marques told Hawaii News Now. "Now they tend to stay indoors, it has created a breathing problem for them."
Marques, who has asthma, told the news outlet the particles in the air has made it harder for her to breathe.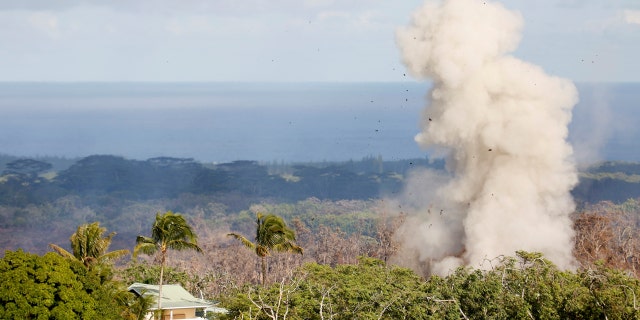 "There was a really thick layer of dust on our cars, and on our decks, and such so you can see and feel it," she said. "It's like a black, grimy soot."
NEW VOLCANIC FISSURE REPORTED IN HAWAII
Officials have ordered evacuations for about 2,000 people since Kilauea volcano began shooting lava into a residential neighborhood. The eruptions have opened 20 vents in the ground, while lava has destroyed more than 40 structures, including two dozen homes.
The Hawaii Department of Transportation will reopen the Keaau-Pahoa Road, known as Highway 130, from Malama Street to Kamaili Road on Tuesday morning for local traffic only, even as new cracks developed overnight.
The DOT posted a photo of smoke from the cracks coming from the roadway behind barricades.
Officials had placed metal plates covering certain cracks on the roadway, but the development of new cracks forced them to initially scuttle those plans.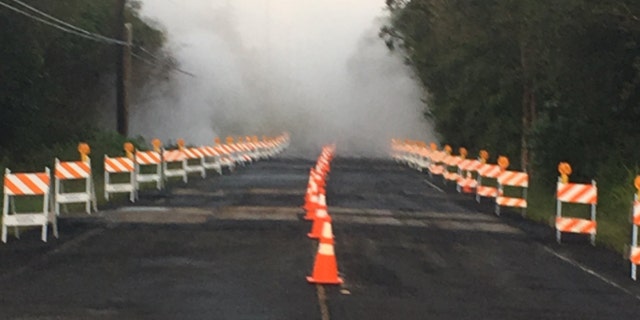 "After inspecting the newly formed cracks, we have determined that Highway 130 from Malama St to Kamaili Rd is safe and will be opening to local traffic," the DOT said. "We will conduct continuous monitoring of the roadway and may shut the road down if hazardous conditions develop."
Geologists warn that Kilauea's summit could have an explosive steam eruption that would hurl huge rocks and ash miles into the sky.
Emergency officials are continuing to advise people in the affected area to leave, and remain concerned about those who continue to stay behind.