Harvey heroism: Citizens step up to help others during deadly storm
NEWYou can now listen to Fox News articles!
In the midst of deadly Tropical Storm Harvey's assault on Texas, people stepped up to help those trapped by rising floodwaters and shut out from basic necessities, with heroes forming human chains, delivering pizzas on kayaks and engaging in dramatic rescues.
Harvey dumped more than 50 inches of rain in the Houston area, causing "unprecedented" flooding that left residents stranded in their homes and vehicles. Amid the chaos, stories of inspiring and selfless interactions have made waves.
However, while many citizens heard the call for help, others tried to profit from the tragedy through scams, price gouging and fraud. The Texas Attorney General's Office said it received about 600 complaints as of Tuesday, adding the "number is rising," according to the San Antonio Express. Officials warned about fake fundraisers being shared and urged people to only donate to established organizations.
Several people also reported seeing skyrocketing prices for essential items, including gas and water. Best Buy apologized earlier this week after attempting to sell cases of water for $42.96 when other packages were priced at $29.98.
But it's the stories of heroism and compassion that have mostly dominated the aftermath of Harvey.
Forming a human chain
On Sunday, several people at an apartment complex were captured in a video forming a human chain to rescue a woman who went into labor during the storm. An email was sent to residents in the apartment complex to help the expecting mother as they waited for emergency responders to arrive, KTRK reported.
When the Houston Fire Department showed up, residents formed a human chain to safely escort the woman into a truck.
"Moments like these are incredibly precious and remind me of all the good in the world," Molly Akers, who posted video of the incident, wrote on Facebook.
Several other photos of people forming human chains to rescue people stuck in cars surfaced on Tuesday.
Police officer rescues
Photos of rescues by police officers and officials have also been posted on social media.
Houston and Harris County police officers worked around-the-clock to respond to thousands of 911 calls for rescues. The Harris County Sheriff's Office posted a photo of a deputy carrying two children through waist-deep floodwaters as rain poured down.
"HCSO deputies are out in the Blackhorse subdivision still working high water rescues. #Harvey" HCSO tweeted.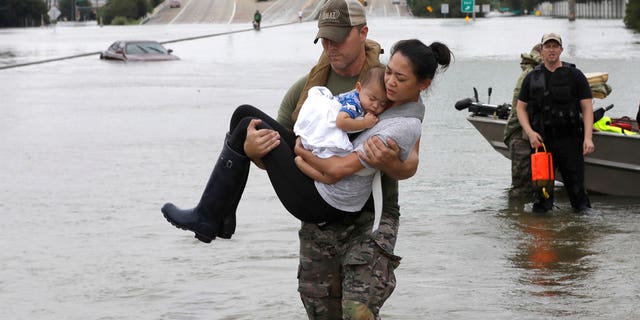 SWAT team member Daryl Hudeck was also pictured carrying a Houston mom and her sleeping baby through floodwaters.
Police have also posted several photos of citizens stepping in to help. An HCSO picture showed several men pushing a person's vehicle through the flood and onto higher ground. The department encouraged others to step in and do the same.
Seniors rescued in flooded nursing home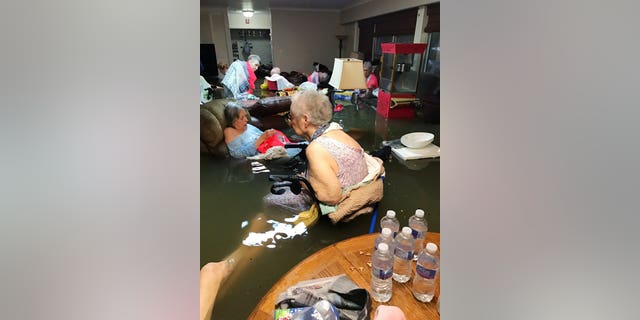 A viral photo of senior citizens sitting in waist-deep water on Sunday caught the nation's attention and demonstrated how serious the flooding was -- and how many people needed help. Officials arrived at the scene hours later, airlifting 15 residents from the assisted living home
"We were air-lifting grandmothers and grandfathers," Dickinson emergency management coordinator David Popoff told Galveston County Daily News.
Pizza Hut sending foods to flood victims
Pizza Hut has been one of numerous businesses to do its part in helping flood victims. Employees at a Pizza Hut in Oak Lake used kayaks to deliver hot pies to families trapped in their homes.
"When I heard there were families in need, I knew we needed to act fast," Shayda Habib told KPRC. "I called my husband and asked him to gather up kayaks and meet me at the restaurant."
The pizza chain posted a photo on its Twitter account with the caption: "THANK YOU to our Oak Lake Pizza Hut team for their out-of-the-car response to deliver hot pizzas all day to the community they serve."