Georgia deputy shot, manhunt underway near outlet mall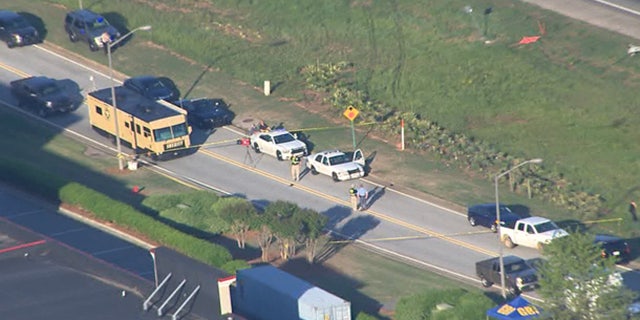 NEWYou can now listen to Fox News articles!
BANKS COUNTY, Ga. – Authorities said a Banks County deputy is lucky to be alive after a shooting Wednesday afternoon. The incident prompted a massive manhunt.
It happened just after 4:10 p.m. at the Atlanta Dragway after a report of robbery in progress. Investigators said the suspect tried to kidnap the victim, but ended up taking their car and fleeing the scene. Deputies spotted the vehicle and tried to pull it over in the area of Tanger Outlet Center, but the man fled.
Investigators said as the man was running, he fired at law enforcement officers, hitting a deputy which was still in their patrol car. The suspect got away, but it prompted a multi-jurisdictional manhunt.
"We have a number of agencies that have come out," said Lt. Carissa McFadden.
Authorities in the area are searching for a black man in his 40s with short hair, 6'0" and weighing about 170 pounds. He was last seen wearing dark clothing. He is believed to be in the area surrounding Steve Reynolds Boulevard.
"He is armed and dangerous, we do know that. He has possibly two weapons on him, two guns on him, so we are asking citizens to not approach this male subject," said Lt. McFadden. "If they do see him, to call 911 and immediately report it."
The name of the deputy has not yet been released, but authorities said he suffered non-life threatening injuries thanks to his vest.