General Electric planning to double purchases from Mexico, CEO says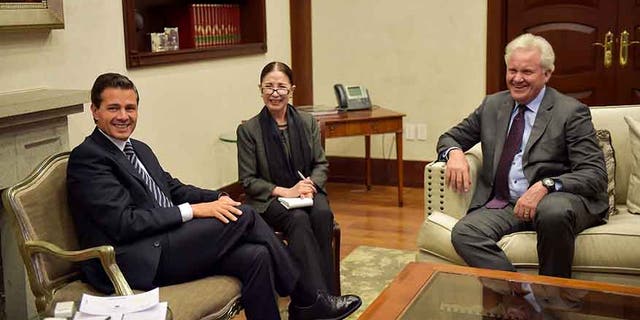 General Electric Co. Chief Executive Jeff Immelt is keen to double the conglomerate's purchases from Mexican suppliers next year, the Mexican president's office said in a statement on Friday, a move that could upset U.S. President Donald Trump.
Immelt met with Mexico's President Enrique Pena Nieto in Mexico City and will spend a few days in Latin America's No. 2 economy at a time of tension between the neighboring countries and major trading partners.
Trump has threatened consequences for U.S firms that move operations overseas and has promised to revive manufacturing in the United States by luring jobs north. He has also threatened to ditch the North American Free Trade Agreement (NAFTA), a lynchpin of the Mexican economy, if he cannot renegotiate better terms.
"Immelt ratified the company's confidence in Mexico and its national industry, by expressing his interest in doubling purchases from national suppliers in 2018," the Mexican president's office said.
GE did not immediately respond to requests for comment.
Immelt's visit coincides with more lobbying by Mexico and Canada to push U.S. business leaders to help them defend NAFTA. Immelt sits on a Trump-appointed manufacturing council that Mexico has identified as a target for lobbying to protect NAFTA.
In his meeting with Pena Nieto, Immelt highlighted GE's plans to expand its operations in the northern industrial city of Monterrey and in an oil and gas plant in the state of Nuevo Leon, the president's office said.
MEXICO BLASTS STUDY LABELING IT SECOND DEADLIEST CONFLICT ZONE BEHIND SYRIA
On Thursday, General Electric announced that it won a contract to supply two new gigawatts of power in Mexico and had also signed a separate $120 million, multi-year deal to provide service to gas and steam turbines in Mexican power plants.
Earlier this month Immelt warned the Trump administration to avoid protectionist policies, while calling on it to level the playing field for U.S. companies with tax reform, revive export financing and improved trade agreements.
GE employs more than 11,000 people and has more than 17 manufacturing plants in Mexico, the president's office statement said. It said GE has helped develop Mexican industry as a strategic partner for more than a century.