For these South Carolina siblings, 'LemonAid' for African students is a labor of love
"Lemonade! Get your fresh, cold lemonade!" Ah, sweet words to hear on a hot summer's day in August leading up to America's national holiday Labor Day. On this particular day, 9-year-old Anne-Murphy Miller and her 8-year-old brother, Nate, ring out those thirst-quenching words from their lemonade stand in their hometown of Beaufort, SC. The mother of the two humanitarian fundraisers, Jodie Miller, holds down the fort and assists in wrangling customers to support a cause that is near and dear to them.
Murphy's Pucker Up is a 'LemonAid' cart created by the Millers to raise funds for people living in countries who simply need clean water. The family's first target: South Sudan.
"It made me sad in that I take clean water for granted."
According to UNICEF, 50 percent of South Sudan's population obtains clean safe water and only 10 percent has access to basic sanitation. Children are the hardest hit, with a third enduring waterborne diseases like cholera.
Last October, Anne-Murphy and Nate had a special guest speaker come to their class at Holy Trinity Classical Christian School and were enthralled by his stories of hardship endured in his homeland of South Sudan. Rev. John Chol Daau is the headmaster of Holy Trinity's sister school, Good Shepherd Academy (GSA) in Juba, Sudan. He founded the institution in 2015, and it currently houses 375 students, from pre-kindergarten to 4th grade.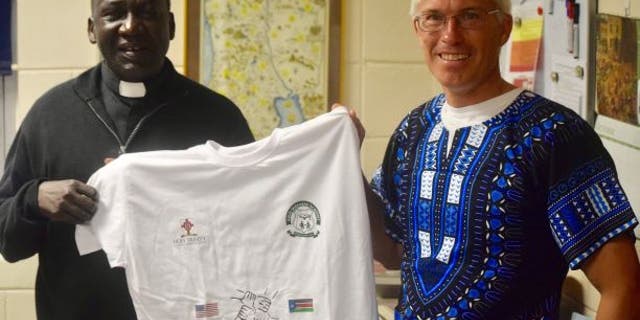 In South Carolina, headmaster Rev. Chad Lawrence founded Holy Trinity Classical Christian school in 2012 and met Daau and several other Sudanese Lost Boys while in seminary school. Lawrence told Fox News that he had prayed about a partnership with another school. In short order, the perfect match arrived. "I thought it was pretty neat that Rev. Daau and I had both gone to seminary and were now starting schools in different parts of the world to work with children," said Lawrence. He added, "We are in very different cultures, but have a common mission and a lot to learn from each other."
Hardship is the backbone of Daau's life and the crucible of his journey in becoming an Anglican priest; he is one of the infamous Lost Boys of Sudan. His life as a boy pastor was shattered by the Second Civil War in the early 1980s. The conflict sent him spiraling into the violent and uncertain world of a wandering war refugee – described in the book, "God's Refugees: The Story of a Lost Boy Pastor." Today, Daau not only speaks of his past that helped shape his character, principles and stronghold of faith, he also highlights what his students and many Southern Sudanese presently struggle with due, in part, to the two-decade conflict: access to clean water.
Anne-Murphy told Fox, "Rev. Daau told us how his students at Good Shepherd have to walk five miles before school to get water that isn't even worthy to drink because it's dirty, and it made me sad in that I take clean water for granted."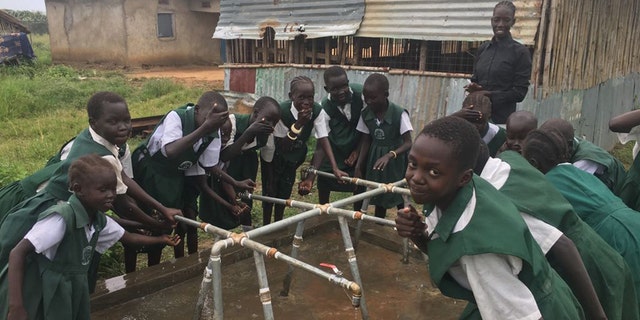 The long trek by kids in their age group for drinkable water haunted Nate and Anne-Murphy throughout the winter holidays of 2017. During this time, due to a generous donor who wishes to remain anonymous, a drinking well was being built near the school. The sorely needed gift, which Daau was very appreciative of, still required proper filtration. "The challenge now is to promote hygiene. Even though the South Sudan government laboratory declared water from our borehole safe and good for human consumption, we still want filtration as water is life," Daau told Fox News.
"You hope there is something contagious about the desire to love our neighbors, whether they be in town or across the world."
So, Jodie took advantage of her children's obsession over the plight of their fellow students at GSA to help improve their daily lives. As stated on their website, the Millers' mission is "To provide schools in developing nations with water filtration systems that are sustainable, simple, and effective in order to protect the students and staff from waterborne illnesses that threaten to disrupt safe, supportive learning environments."
Anne-Murphy's favorite drink, lemonade, was to be the foundation of their fundraising plan, and Nate, having a keen mind for numbers, jumped right in to create the business template. In their pursuit 'for good', the three musketeers also drew up the logos and bought an old coffee cart that they converted into a lemonade stand. Jodie hunted for a water-filtration company that could accommodate an education foundation with a student body of more than 300, including 14 teachers and a handful of supporting staff.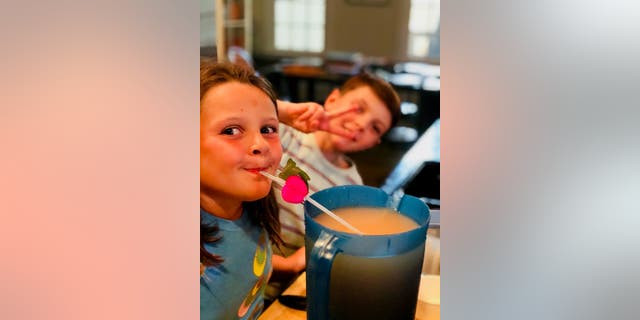 As Jodie explained it, "We researched a filtration system that would equip the kids with something they could use both at school and at home and came across a product that is widely used in America for outdoorsy camping purposes called Lifestraw. We determined that five large community size systems would provide five years of clean water for the entire school."
On June 23, 2018, the Millers launched Murphy's Pucker Up at a cancer-survivor benefit followed by four other events. All with lip-smacking success.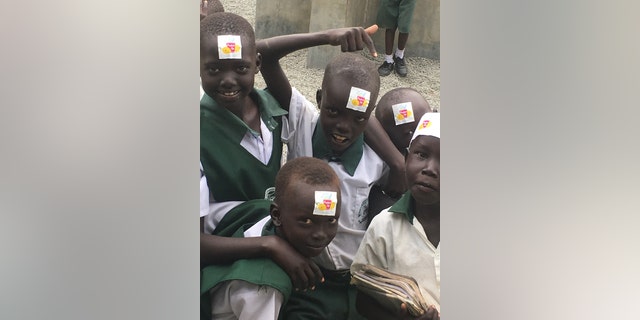 But good luck in squeezing out their secret lemony recipe. Perhaps one could wedge it from the owners of Beaufort's Breakwater. Chefs Greg Lang and Elizabeth Shaw are family friends of the Millers and were delighted to help alchemize the perfect concoction. In fact, Murphy's LemonAid is now a staple on the restaurant's menu, with 100 percent of the profits going to this worthy cause.
The Millers hoped to raise enough money for the filtration system so that the students of GSA would have it by the start of their 2019 school year.
On a hot summer's weekend just before the Labor Day, Rev. Lawrence announced they reached their goal of raising money for the Good Sheperd Academy's filters. They had actually exceeded it.
When Fox asked how he thought Nate and Anne-Murphy's charitable deeds would reverberate among their classmates at Holy Trinity and those of GSA, Lawrence said, "Well, you hope there is something contagious about the desire to love our neighbors, whether they be in town or across the world."