Florida sheriff Scott Israel says lawmakers 'won't get re-elected' if they don't push for gun control
In the wake of this week's deadly Florida high school shooting, Broward County Sheriff Scott Israel called out local lawmakers during a candlelight vigil for the victims, saying those who did not push for new gun laws "will not get reelected."
"If you're an elected official, and you want to keep things the way they are, and not do things differently, if you want to keep the gun laws as they are now, you will not get re-elected in Broward County," Israel said Thursday night to cheers, as locals grieved the 17 victims killed a day earlier.
The vigil in Parkland, near the Marjory Stoneman Douglas High School, drew about 1,000 people and attendees at one point began chanting "No more guns! No more guns!", according to the Associated Press.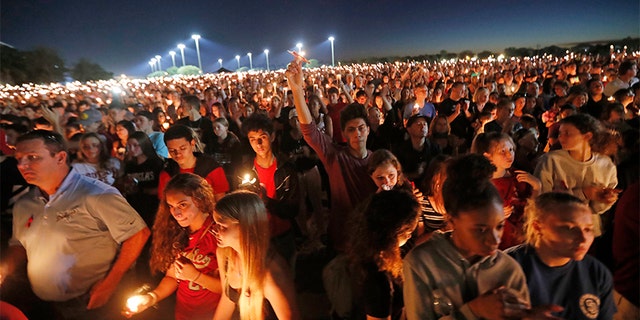 Many showed up wearing red – the school color, and one sign read "Kids don't need guns. No guns under 21."
Israel's remarks and some of the signs in the crowd mirrored the familiar debate that follows most school and mass shootings in the U.S., with one side typically championing gun control and another group advocating more gun rights -- but both sides looking to solve the same problem.
Israel's comments Thursday came after he told reporters people being treated for mental illnesses shouldn't be allowed to purchase firearms.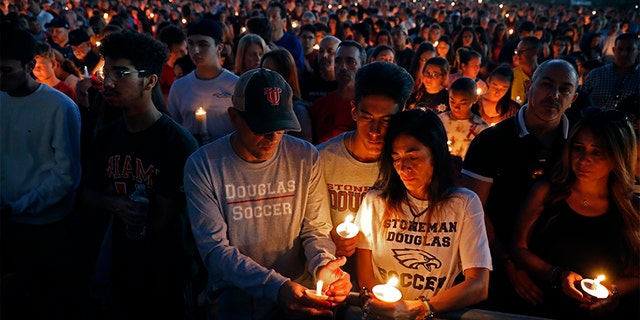 "Certainly more money should go to mental health. I've said this time and time again. If you tear a knee up, you go to an orthopedic surgeon. If we have mental health issues, we need to be treated," Israel said earlier in the day. "But while people who are the victim of mental health illnesses in this country are being treated, in the opinion of this sheriff, they should not be able to buy, surround themself, purchase, or carry a handgun. Those two things don't mix."
Israel also appeared on MSNBC Thursday night and urged politicians to do "what is in the best interest of our children."
"I've spent a lifetime in law enforcement protecting peoples' rights, but at the end of the day the rights of our children must be first and foremost," he said. "And lawmakers gotta change the way they do things. The same ol', same ol' just ain't working."