Federal appeals court weighs if Texas inmate who ate his eye is mentally fit for execution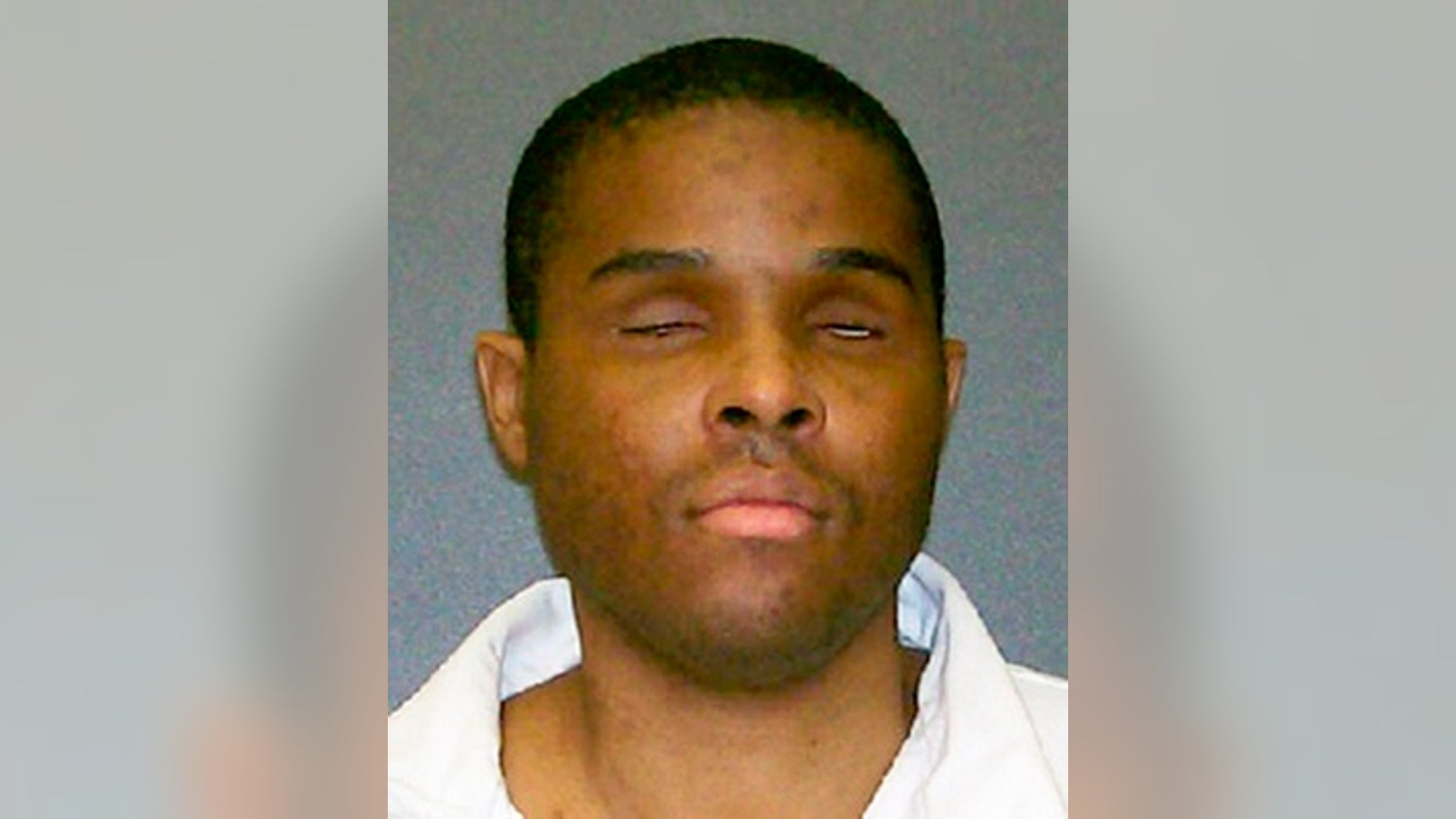 Attorneys for a Texas death row inmate who removed his only eye and ate it in a bizarre outburst argued to a federal appeals court that he suffers from mental illness and should not be considered for execution.
Andre Thomas, 35, of Texoma, was convicted of killing 13-month-old Leyha Marie Hughes, his estranged wife's daughter in March 2004. His estranged wife Laura Christine Boren, 20, and their son Andre Lee, 4, were also murdered in the same attack that occurred in Grayson County, about 60 miles north of Dallas.
The victims were stabbed and had their hearts ripped out. Thomas told police he put the hearts in his pocket, and took them home, where he placed them in a plastic bag and then threw them in the trash.
Thomas stabbed himself a few times before he walked to the Sherman Police Department and told them that he had murdered the trio. He claimed God told him to commit the killings.
SEVERED RATTLESNAKE HEAD BITES TEXAS MAN, NEARLY KILLS HIM
Thomas has a history of mental problems. While in jail five days after his arrest, he plucked out one of his eyes. A judge ruled him competent for trial. While on death row in 2009, he removed his remaining eye and told prison officials he ate it. He's now at a prison psychiatric unit.
A federal judge in 2016 rejected an appeal from Thomas and his attorneys, who then took their their case to the New Orleans-based 5th U.S. Circuit Court of Appeals. The 5th Circuit Court heard their oral arguments Tuesday on whether appeals can move forward.
In written filings before the arguments, attorney Catherine M.A. Carroll contended Thomas' mental illness went undiagnosed and untreated "until after the delusions it caused led him to commit the crime here."
TEXAS COUPLE SUES STATE OVER LEGAL DEFINITION OF'PICKLE'
She also argued Thomas' trial lawyers failed to do several things, including not challenging a judge's ruling that found Thomas competent for trial, not requesting a competency hearing, failing to uncover and present to jurors "a wealth of evidence demonstrating that Thomas' mental illness was profound and long-standing" and allowing racially biased jurors to be impaneled.
The Herald Democrat reported Carroll argued for about 30 minutes Tuesday for Thomas' appeal. The media outlet noted that if she "failed" then Thomas would be "one step closer to getting an execution date."
The Associated Press contributed to this report.