Ex-Baruch College fraternity brothers plead guilty in hazing death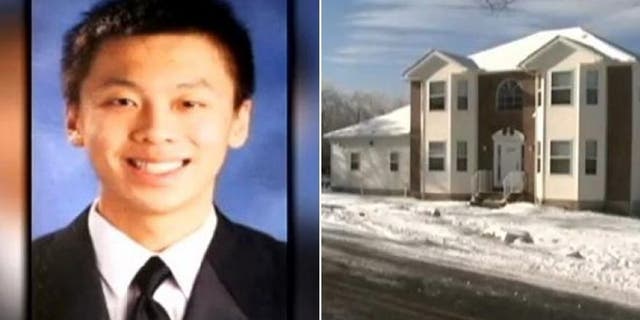 Four men pleaded guilty to voluntary manslaughter Monday in the 2013 hazing death of a New York City college freshman, in a case that made headlines after investigators said the fraternity members went to great lengths to cover it up.
Former Pi Delta Psi fraternity members confessed that they physically abused Chun "Michael" Deng, 19, a Baruch College freshman, then tried to hide it in their rented house in Pennsylvania's Pocono Mountains in December 2013.
The four defendants, Kenny Kwan, Charles Lai, Raymond Lam and Sheldon Wong, had been charged with third-degree murder, but their charges were reduced after they pleaded guilty to felony manslaughter. They will be sentenced in December, but they face 22 to 36 months in prison.
Deng joined about 30 people on a trip to Tunkhannock Township, Pa., one week in December to take part in a pledging ritual for Pi Delta Psi, investigators said.
WOMAN CHARGED WITH SHOOTING, KILLING DAD FOLLOWING EVICTION FROM PARENTS' MANSION
Fraternity members blindfolded Deng, forced him to wear a heavy backpack and then repeatedly tackled him during the hazing ritual, known as glass ceiling, police said.
Deng cursed and hit Lam at some point during the ritual, Monroe County Assistant District Kim Metzger told the judge. She said Kwan was the last brother to tackle Deng.
"Mr. Deng did not stand up after that moment," Metzger said.
The fraternity members brought Deng inside the house where they changed his clothes and searched information online about his symptoms, prosecutors said.
The group called a national fraternity official, who told them to conceal any materials that had the fraternity symbol on it, The New York Times reported.
The fraternity brothers waited an hour before taking Deng to the hospital, according to court documents. Deng died a day later on Dec. 6 from major brain trauma.
Wong did not take part in the hazing but helped arrange it as a "pledge educator," Metzger said.
The pleas come a week after prosecutors announced criminal charges against Beta Theta Pi and 18 Penn students after the death of Timothy Piazza, 19. Piazza died on Feb. 4 after he fell down a flight of stairs while intoxicated during a Beta Theta Pi pledge party. The fraternity members didn't call an ambulance for 12 hours.
PENN STATE FRATERNITY BROTHERS CHARGED IN CONNECTION WITH STUDENT'S DEATH TO BE ARRAIGNED
Another suspect has pleaded guilty to hindering apprehension and was sentenced to probation. The fraternity itself was charged with murder, and dozens of other suspects face less serious charges.
Baruch College permanently banned Pi Delta Psi. The administration also established a moratorium on pledging at all Greek groups on campus.
The Associated Press contributed to this report.