Evacuations lifted in brush fire north of Los Angeles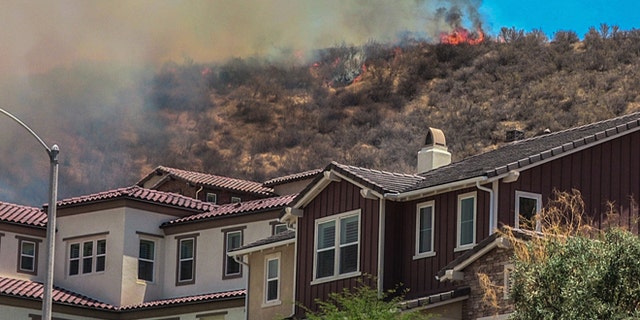 NEWYou can now listen to Fox News articles!
SANTA CLARITA, Calif. – A brush fire that burned to the edges of homes in the foothills of the Santa Susana Mountains north of Los Angeles was 20 percent contained Sunday and was no longer threatening residences.
Crews were taking advantage of calmer winds and building a perimeter around the smoldering blaze that consumed about 1.7 square miles of thick chaparral in a rugged canyon.
Some 2,000 people sent fleeing from about 750 homes in the Stevenson Ranch area of the Santa Clarita Valley on Saturday were allowed to return after nightfall.
"It was a little scary," resident Jessica Leone told KCAL-TV, praising the quick actions of firefighters. "They did such an amazing job."
Aerial photos showed the flames came to the property line of a ridgetop home that was covered in fire retardant.
Crews contended with winds gusting up to 25 mph Saturday as the blaze burned close to Interstate 5, the main artery connecting Southern California and the San Joaquin Valley.
"The flames were jumping in circles around our house," Victor Roman told the Los Angeles Daily News after packing his valuables and making a speedy exit with his wife.
He said he saw a car crash over the side of the road at the outset of the fire and suspected the wreck sparked the flames.
However, fire officials said the cause of the fire has not been determined.