Eagle perches on Minnesota 9/11 flag display: See the photo
NEWYou can now listen to Fox News articles!
Firefighters in Minnesota were in awe on Tuesday when an eagle — the ultimate symbol of American patriotism — perched on a 9/11 memorial.
The fire department in Coon Rapids, a town roughly 15 miles north of Minneapolis, set up its aerial ladder from a fire truck on a bridge along Highway 10 to take part in an anniversary tribute.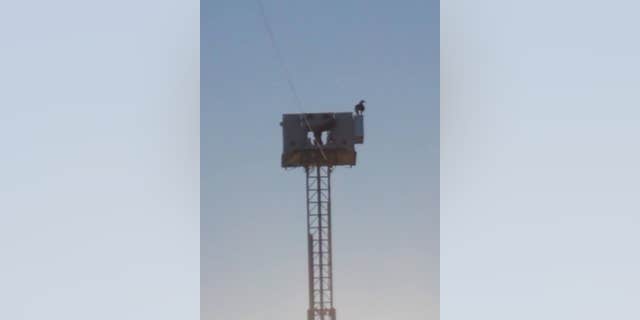 The eagle landed on one of the aerials after fire officials set it up, and stayed put for less than a minute.
Still, Chief Jerry Streich, of the Andover Fire Department, captured the patriotic moment in a Facebook Live feed, and told news station KARE the bird had positioned itself around one of the national moments of silence.
FLASHBACK: 9/11 AS IT HAPPENED
"Isn't that unbelievable?" Streich said. "This eagle just landed on the aerial, while we're doing the 9/11 memorial. Phenomenal."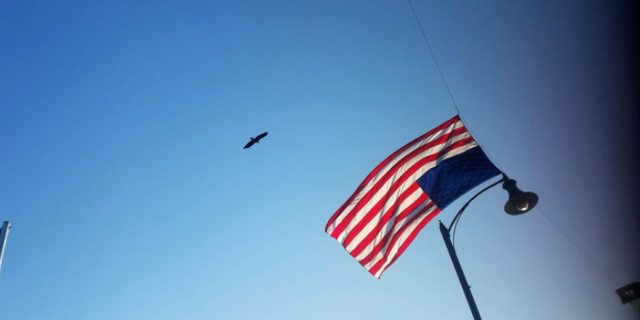 Steich said that it was the department's 17th annual memorial to 9/11, and that after looking at the bird a few times, he figured he should capture the moment.
"There's no better symbol to represent America today than a flag -- but then for an eagle to land on a fire truck holding a flag," the fire chief said. "I mean, it doesn't get much more symbolic than that."