Dog chained atop crate towed on highway; owner investigated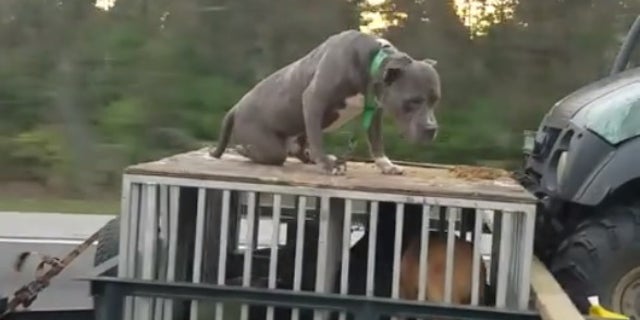 NEWYou can now listen to Fox News articles!
A Florida dog owner is under investigation after a video emerged on Facebook of an SUV towing a pit bull chained to the top of a crate.
WARNING: VIDEO CONTAINS PROFANITY
Brenna Cronin of Palm Coast captured the footage Wednesday while driving with her boyfriend along I-95 in Flagler County, Fox 13 reported.
"I was just completely outraged and appalled," she told ABC News on Thursday. "The dog stood up and was looking at me so sad."
The video shows a Blue American pitbull terrier trying to gain its balance as it tries to stay on top of the crate.
The dog's owner, who wished not to be identified, told WTLV in Jacksonville the crate was an "OK" way to transport the animal and is "how everybody transports."
SCIENTISTS STUDY THE BEST WAY TO TALK TO A DOG
Flagler Animal Services of Palm Coast also spoke to the owner and was told that the dog is used for hunting and is allowed to ride outside, as he does not like his crate, ABC News reported.
A Flagler County ordinance says dogs being transported in the open beds of pickup trucks or other vehicles must be confined to a pen or held down by a "minimum of two tethers or some other similar method to safely control or restrain the dogs from easily escaping the vehicles."
The dog in the video, named Zeus, has only one tether.
DOG STAYS WITH OWNER FOR 20 HOURS AFTER MAN BREAKS NECK
The owner was ticketed, Fox 13 in Tampa (WTVT) reported, although officials did not specify the nature of the ticket. Jeffery Ritter, development coordinator for the Flagler Humane Society, told ABC News that the owner was cooperating in the investigation and has allowed animal services to conduct wellness checks.
After the Humane Society's investigation is completed, it will turn over its findings to local police to determine if the owner will face charges.