Defiant style that made Joe Arpaio popular led to his downfall
He was known as "America's toughest sheriff" because of his tough-on-crime attitude and iron-fisted immigration crackdowns.
When he was ordered to tone down his immigration enforcement, then-Maricopa County Sheriff Joe Arpaio brazenly vowed to defy orders. Who, he apparently thought, would mess with the swashbuckling, blunt and popular lawman who had been in office for over two decades?
"By the way, I'm not stopping anything," he told Fox News' Neil Cavuto after the 2011 federal court order. "I'm going to continue to enforce those state laws regardless of the federal government trying to put pressure on me to satisfy all of these activists."
EX-SHERIFF JOE ARPAIO FOUND GUILTY OF CRIMINAL CONTEMPT
That rebellious streak is what ultimately led to Arpaio's downfall.
On Monday, a judge found Arpaio, who was voted out of office last year, guilty of misdemeanor contempt of court.
It was a spectacular fall from grace for a sheriff from Arizona who often made national headlines and wasn't shy about speaking his mind.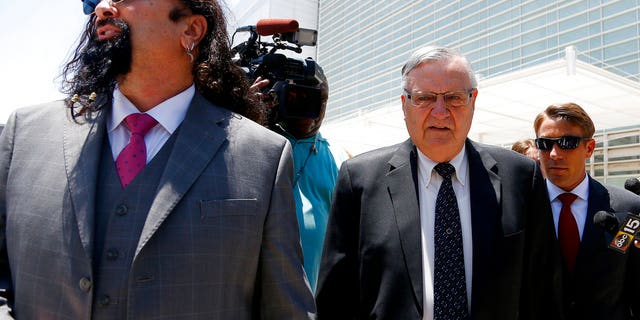 Immigration activists, with whom he often butted heads, are now demanding that he get the ultimate payback – they want the sheriff who oversaw jails in Maricopa County to sit in one.
"We're looking for him to be sentenced, we're looking for him to have that mug shot, because that mug shot is our sign of vindication," said Lydia Guzman of Chicanos Por La Causa, a Latino advocacy group in Phoenix. "That's when we'll finally have our victory dance."
SHERIFF JOE ARPAIO LOSES 7TH TERM
The 85-year-old is set to be sentenced Oct. 5 and could face up to six months in jail. But experts doubt he would be incarcerated because of his advanced age, clean criminal record and his 55-year career in law enforcement. In addition, his wife was diagnosed with cancer.
Unlike other local police leaders who left immigration enforcement to U.S. authorities, Arpaio made hundreds of arrests in traffic patrols that sought out immigrants and business raids in which his officers targeted immigrants who used fraudulent IDs to get jobs.
The efforts are similar to local immigration enforcement that President Donald Trump has advocated. To build his highly touted deportation force, Trump is reviving a long-standing program that deputizes local officers to enforce federal immigration law.
Arpaio's immigration powers were eventually stripped away by the courts and federal government.
The contempt-of-court case marked the first time federal authorities had prosecuted Arpaio on a criminal charge, though his office had been the subject of past investigations.
ARIZONA'S 'SHERIFF JOE' FORMALLY CHARGED WITH CRIMINAL CONTEMPT
Federal authorities had looked into Arpaio's misspending of $100 million in jail funds and his criminal investigations of political enemies. Neither investigation led to prosecution of the sheriff or his employees.
Arpaio's criminal charges are believed to have contributed heavily to his crushing defeat in November to Paul Penzone, a little-known retired Phoenix police sergeant.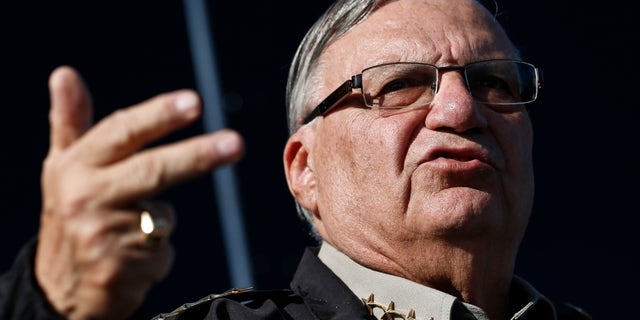 He was ousted in the same election that sent Trump to the White House. Trump used some of the same immigration rhetoric that helped make Arpaio a national figure in the debate over the U.S.-Mexico border.
Cecillia Wang, an attorney who helped press the racial profiling case against Arpaio, said his fate is a cautionary tale for police bosses who want to get into immigration enforcement.
"What was a lark to him in going after undocumented immigrants was terrible, not only for the people he hurt but also for his own agency and his career," Wang said. "His career will go down as ending with his conviction."
Fox News' William La Jeunesse and The Associated Press contributed to this report.