Decorated college golfer found dead on course, man arrested for murder
A 22-year-old homeless man with "an urge to rape and kill a woman" assaulted and fatally stabbed a decorated, nationally-ranked college golfer and then left her body on an Iowa golf course, officials said.
The body of Celia Barquin Arozamena, an international student from Spain studying at Iowa State University, was found Monday morning at Coldwater Golf Links in Ames, police said in a news release.
Investigators said they were called to the golf course around 10:20 a.m. Monday after golfers found an unattended golf bag on the course. Officers found the body "some distance away" and later determined the 22-year-old woman had been assaulted and died as a result.
Police said the investigation led them to Collin Daniel Richards, also 22, who has been charged with first-degree murder.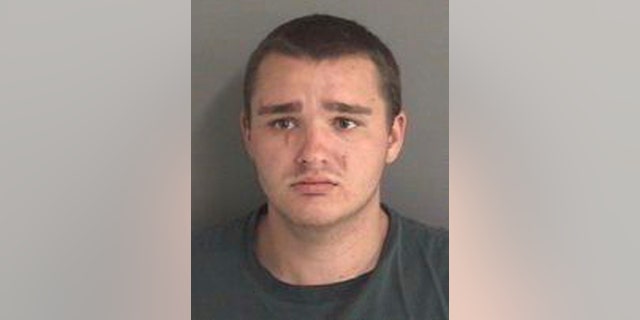 In a criminal complaint, Ames Police said Barquin suffered "several stab wounds to the upper torso, head and neck," the Des Moines Register reported.
Richards made his first, brief appearance at the Story County Courthouse in Nevada on Tuesday, the newspaper reported. He was held on a $5 million cash bond.
Story County Attorney Jessica Reynolds said authorities believe Richards was homeless and the crime is alleged to be "a random act of violence."
Richards was reportedly living in a tent in a temporary camp near the golf course and he allegedly told an acquaintance about his "urge to rape and kill a woman," according to the complaint. Police said they recovered a knife in Richards' possession, and noted he had several scratches on his face and a deep laceration on his left hand.
"The state believes him to be a flight risk, also believes him to be a danger to the community," Reynolds said.
Ames Police Commander Geoff Huff said at a press conference Tuesday morning that Richards had told them he had gone another man's home to shower. The man told police Richards arrive at his home and "appeared disheveled and covered in blood, sand, and water."
He said Richards left the house with his clothes in a black backpack. The bag was found at the temporary camp and while searching it, police found two pairs of shorts that tested positive for the presence of blood.
Huff would not comment on a possible motive, but called the incident troubling and rare.
"It's very troubling that it happened in broad daylight," he added. "It's an awful thing that's happened."
The Des Moines Register reported that Richards has an extensive criminal history including a January 2015 incident where he threated to shoot store clerks when they confronted him about stealing two energy drinks at a Bayard convenience store.
Citing court records, the newspaper said Richards told the store clerks that he would return with a gun and "shoot the place up." Richards was charged with intimidation with a dangerous weapon and later received a deferred judgement of two years of probation.
The rest of Richards' criminal history includes first-degree theft, domestic assault, as well as third-degree theft and third-degree attempted burglary.
Barquin, a native of Puente San Miguel, Spain, was finishing her civil engineering degree this semester after exhausting her eligibility at Iowa State in 2012-2018, the university said.
"Celia had an infectious smile, a bubbly personality and anyone fortunate enough to know her was blessed," Iowa State Director of Athletics Jamie Pollard said. "Our Cyclone family mourns the tragic loss of Celia, a spectacular student-athlete and ISU ambassador."
According to the university, Barquin was one of the most accomplished players in Cyclone golf history after becoming the 2018 Big 12 champion and Iowa State Female Athlete of the Year.
In April, she became the second women's golfer at Iowa State to earn medalist honors at a conference tournament when claiming the 2018 Big 12 Championship. She did it with a three-shot victory.
Barquin, who was ranked No. 69 nationally by Golfweek, ended her career as a Cyclone with a fourth-straight NCAA Regional appearance and earned All-Big 12 Team honors for the third time — the second player in Iowa State's history to do so.
She became the third Cyclone women's golfer to compete in the U.S. Women's Open Championship, the university said.
The team announced Tuesday it was pulling out of the East & West Match Play in Ann Arbor, Michigan, to be with friends and family and to grieve the loss.
Barquin's success on the golf course also continued in Europe, where she won the European Ladies' Amateur championship fewer than two months before her death.
According to the BBC, Barquin shot a course-record 63 at Slovakia's Penati Golf Resort in the third round. She won the championship with a one-shot victory.
Funeral arrangements are pending for Barquin, who will be honored during Iowa State's home football game Saturday, ESPN reported.
The Associated Press contributed to this report.